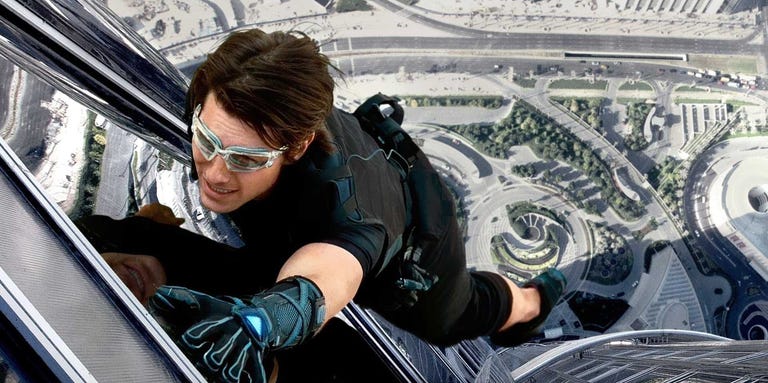 In the 22 years since the Tom Cruise first became Ethan Hunt, Mission: Impossible has proven it can hang tough with the best action franchises out there. The formula just works: a short prologue, a great theme, a self-destructing message, an inscrutable plot loaded with crosses and double-crosses, death-defying stunts, and yes, high tech gadgets that border on science fiction.
The sixth entry, Mission: Impossible–Fallout, executes that formula flawlessly. Before the film hits theaters this Friday, we took some time to revel in some of our favorite gadgets from the Mission: Impossible films.
The World's Greatest Comms
In the earlier Mission: Impossible films, you'd often see an IMF team member slip a tiny gewgaw in their ear and do a comms check(or even use a phone, like in the pic above).
By the time we get to Fallout that added step of verisimilitude is gone. Ethan (Cruise), Benjy (Simon Pegg), Luther (Ving Rhames) and Isla (Rebecca Ferguson) are always in radio contact with one another, even though we don't see any gadget whatsoever.
No matter how much running, jumping, fighting or climbing is going on, whatever miraculous directional microphone is buried inside our heroes' ear canal can somehow pick up the conversation. Most of the tech in this series is something I would never actually use day-to-day but, man, I'd really like to get my hands on whatever comms system they have.
One of the most suspenseful sequences in any Mission: Impossible film is the opera house assassination attempt in Rogue Nation. Ethan is watching Isla (our introduction to Rebecca Ferguson), but he's also watching a guy backstage who transforms his flute into a high powered, sighted, and silenced rifle. And not just any flute, a weird-looking bass flute!
As the killer waits for a high A in the "Nessun Dorma" aria from Puccini's "Turnadot," Ethan conducts himself in the most instrumental way: beating the crap out of the shooter. It's not the most futuristic gadget in the franchise, but it's certainly the most classical.