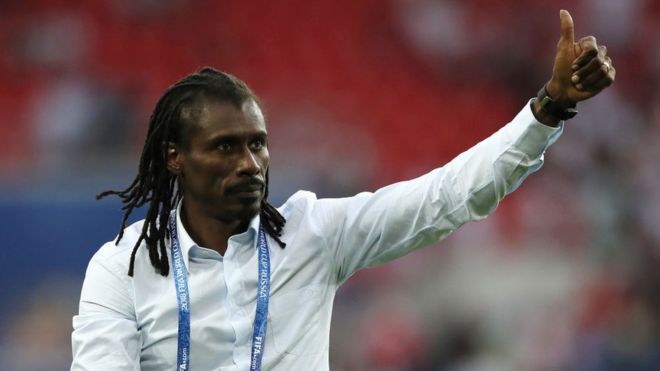 It's a trait that dates back to the time as captain of the Lions of Teranga.
He led his country to the 2002 World Cup quarter-finals in South Korea and Japan.
That was a highlight in a career of mixed fortunes.
In the same year, Senegal lost the Africa Cup of Nations (Afcon) final to Cameroon in Mali.
He was to end his football career in 2005 without a trophy for his country.
That failure has spurred him on to succeed as a coach.
Life of heartbreaks
Salif Diao, who played with Cissé between 2000 to 2005, remembers him as a fighter.
"The day we lost 2002 Afcon final to Cameroon, we were sharing rooms," Diao says.
"Cissé was so gutted and he said to me: 'Salif, this trophy was in my hands. I was holding it with one hand and Cameroon stole it from me.'"
Diao says he also remembers Cissé vowing, "If I don't win it as a player, I will win it one day as a coach."
This level of determination and willpower has been a permanent feature of his career.
It's no wonder he has earned the distinction of being the only black coach at the 2018 World Cup, though he is vehemently opposed to categorisation based on skin colour.
Arguably, his career and life in general has been one of heartbreaks.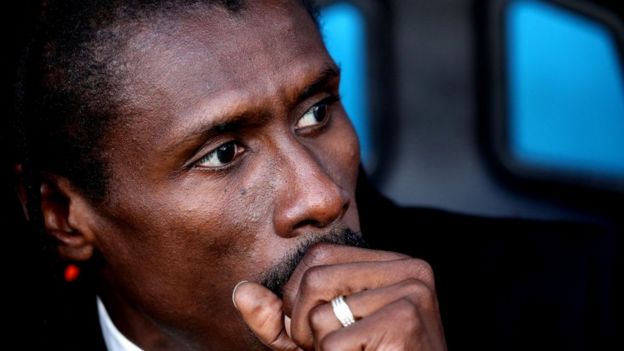 "His determination makes him who he is and that's why he was our captain," says former teammate Salif Diao.
"He had the voice, he had the words that needed to be put on the table to get everyone going," he added.
"After he gave a speech to the team, we all would put on the mask of a lion."
'Sex symbol'
Aliou Cissé has been an instant hit with World Cup fans. First there was this fist-pump, which came as Senegal secured their first win of the tournament against Poland, and has been dubbed "one of the great World Cup coaching celebrations".
His next meme-able moment came with this claw-like gesture: