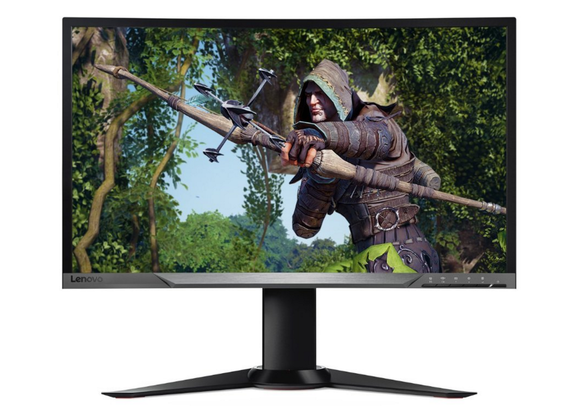 AMD's game-smoothing FreeSync monitors launched a full year after Nvidia's rival G-Sync displays, but they've been coming fast and furious ever since. Late Thursday, the company revealed that its technology surpassed not one, but two major milestones with the launch of the 27-inch Y27f ($400 on Amazon) earlier this month. This curved, 144Hz 1080p display is both Lenovo's first-ever FreeSync display, as well as the 101st FreeSync display released overall.
FreeSync and G-Sync monitors synchronize the refresh rate of your graphics card with your display. That eliminates stutter and tearing, resulting in gameplay so buttery smooth that you'll never be able to use a traditional non-variable refresh rate monitor again. Both technologies are utterly superb.
But each kills stutter from different angles. G-Sync forces monitor makers to bake a hardware module inside their displays. AMD's FreeSync is a software-based solution that piggybacks on the royalty-free, industry-standard spec known as DisplayPort Adaptive-Sync. G-Sync's dedicated hardware offers more universal refresh range support, but inside of standard gameplay frame rate ranges, both solutions perform all but identically.
Building around open standard software has helped FreeSync monitors flourish, however. While existing G-Sync monitors are fairly limited in number and start at $380 thanks to the extra hardware, there's a range of FreeSync monitors available for every possible display niche you can think of—and prices start at just $110 on Amazon for a 22-inch 1080p FreeSync monitor.
The story behind the story: There's a nasty anti-consumer downside to this display technology war between AMD and Nvidia: The lack of cross-compatibility. The benefits of FreeSync displays only work with Radeon graphics cards while G-Sync's charms are restricted to GeForce cards. With many gamers buying monitors far less frequently thangraphics cards, the threat of brand lock-in is real. Here's hoping AMD and Nvidia cast aside their difference to rally around a single standard at some point in the future—but don't hold your breath.
Update, August 27, 2016: AMD Vice President Roy Taylor left a note in this article's comments section to note that FreeSync is based on industry-wide standards, and  that Nvidia could adopt it if it chose to do so. Scroll down to see his full comment below.
source"gsmarena"