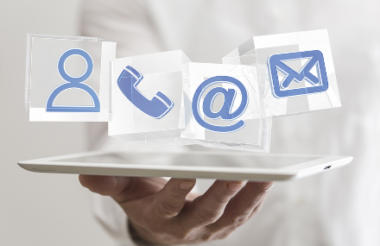 Our monthly round-up of the latest technology developments and partnerships affecting the charity sector. 
In case you missed it: News highlights
Charities have been warned of a "crash landing" when HM Revenue & Customs introduces its digital tax laws next year. The government's Making Tax Digital (MTD) scheme for VAT returns is currently being piloted and will be mandatory for organisations with a turnover of more than £85,000 from April next year. Read the full story.
Charities reported 152 data security incidents to the Information Commissioner's Office in the year to March 2018, with over a third being reported in the first three months of this year, according to the latest update from the data regulator. In the quarter from January to March 2018, charities reported 59 data security incidents, up from the 35 in the previous three months – a 69 per cent increase. Read the full story.
The Nominet Trust has changed its name to the Social Tech Trust and has partnered with Social Investment Business, after parting ways with its corporate funder earlier this year. Read the full story.
If the charity sector does not "step up and get into the guts" of blockchain it risks being left behind, according to a report by Charity Futures. The think tank commissioned Asheem Singh, former head of policy at Acevo and author, to write the report Using Blockchain to Better Humanity.  Its main findings are that blockchain technology offers charities "huge untapped benefits" but that the sector is "behind the curve". Read the full story.
Latest partnerships
English Speaking Union and Manifesto 
The English Speaking Union has worked with the digital agency Manifesto to build a bespoke new website to celebrate its 100-year anniversary. The charity promotes better communication between people of all cultures and countries wanting to reach new audiences and improve engagement. The new campaign hub features an animated, colour-defined content banner, full-width imagery, bold use of colour and strong typography.
Sarah Matthews, digital marketing manager at the English-Speaking Union, said: "We're delighted with the impact that the website is having so far. It is enabling us to extend our reach further than ever before and to share both our relevance today and the importance of developing oracy skills in young people to improve social mobility. For the first time, we are able to share our compelling alumni stories on a modern, eye-catching platform which reflects the direction we are moving in, as a forward-thinking charity and membership organisation."
Sue Ryder and K3 retail and Sterling Lotteries 
Sue Ryder is now able to sell lucky dip tickets for its weekly lottery in its charity shops after upgrading its electronic point-of-sale software from K3 Retail meant the charity and its lottery partner Sterling Lotteries were able to create the functionality.
Currently, Sue Ryder has a weekly lottery every Friday to which supporters can sign up, paying by Direct Debit. Tickets cost £1 and over £2.2m has been raised since its launch in 2015. The technology was designed specifically for the charity and David Borrett, director of retail, marketing and communications said: "It's more important now than ever before that we have the best systems, along with new and exciting ways to fundraise, which can help our shops raise these vital funds."
Salix Homes and ANS Goup  
Charitable housing association, Salix homes, has partnered with ANS Group to move most of its work to the cloud. It is migrating its every day operations to Microsoft Azure, it's on-premise customer-relationship management system to Microsoft Dynamics and its employees to Office 365. It is part of the organisation's digital transformation programme.
Chris Henry, ICT manager at Salix Homes, said: "This exciting development marks the next stage in our journey to become a forward-thinking housing association of the future – enabling us to implement our digital ambitions and improve our services. With ANS, we will have the flexibility needed to develop and innovate our services, giving us the agility we need to meet the challenges facing the social housing sector both now and in the future.
 "We're rethinking the way we deliver all of our services in order to meet the demands of a modern world and are confident that this ambitious upgrade of our ICT infrastructure will provide the foundations for a first-class digital experience for our colleagues and customers."
The Mason Trust and Innershed
Website and software developer Innershed has worked with the Mason Trust to redesign the icanbea.org.uk website to support some new features and developed a mobile app. There is now an interactive careers wizard designed to match skills and interests against job roles, easier navigation, cleaner text, sharp images and icons to aid storytelling, secure login area, an interactive map, detailed industry explanation and salary expectations to aid user career progression.
Salvation Army and Intercity Technology 
The Salvation Army Trading Company Ltd (SATCoL), the trading arm of the Salvation Army charity, has partnered with enterprise mobility and IT specialist Intercity Technology to improve the connectivity and customer experience in its new concept charity superstores. The company has upgraded the technical infrastructure for two new superstores, as well as its existing 235 store retail estates, which includes offering wifi to all staff, customers and volunteers.
John Woods, project delivery manager at the Salvation Army Trading Company Ltd, said: "We're able to bridge the gap between all of our stores, allowing us to function as one business. It has helped to create an integrated approach to reinvigorating the retail experience for our customers, particularly as we open our more high-end superstores across the country."
Insight
The UK's new data protection laws, and the General Data Protection Regulations (GDPR), came into force on 25 May. Minister for digital and the creative industries, Margot James, urged charities to make sure they comply with GDPR. Read her article here.
Source:-.civilsociety