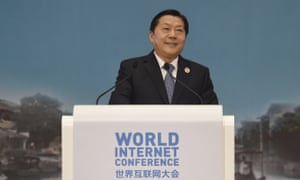 The former top official for internet censorship in China, who travelled to the heart of Silicon Valley to promote China's vision for the web, is under investigation for corruption, the Communist party's anti-corruption agency has said.
Lu Wei was the powerful and flamboyant head of the Cyberspace Administration of China from 2014 until June 2016 and he came to personify China's model for internet control. He travelled to the United States, meeting with the CEOs of Facebook, Amazon and Apple, and held court when tech titans visited China.
Lu was being investigated for "serious disciplinary violations", a euphemism for graft, the Central Commission for Discipline Inspection said on its website. He stepped down from running the Cyberspace Administration in 2016, leading to rumours he had fallen out of favour.
President Xi Jinping has led a far reaching anti-corruption drive since coming to power five years ago and has said graft is the paramount threat to the ruling Communist party. The campaign has seen nearly 1.4m party members punishedand Xi vowed to continue rooting out graft during his second five-year term which began last month.
Critics say elements of the anti-graft campaign have been used to eliminate Xi's enemies and root out political factions that oppose him.
Lu is the most prominent official to fall since Xi's second term began and the anti-corruption agency pointed to Lu's case as a sign the drive will continue. "Lu Wei being investigated by the organisation is the best proof of this determination and resolve," the agency said in a commentary.
Lu was unique among Chinese officials who usually endeavour to project themselves as dull technocrats. Xu Lin, the official who replaced Lu, has kept a low profile and is seen as an ally of Xi.
But Lu publicly rebuked internet personalities and his visits with Tim Cook of Apple and Jeff Bezos of Amazon were widely covered by Chinese media.
In a sign of his power, Mark Zuckerberg, Facebook's CEO, famously pandered to Lu during a tour of the social network's office, prominently displaying a book of Xi's speeches on his desk. Facebook is currently blocked in China and Zuckerberg has been on a charm offensive to reverse the ban.
Lu rejected claims that China censors the internet, despite thousand of websitesbeing inaccessible from within the country.
"It is a misuse of words if you say 'content censorship'," Lu said. "But no censorship does not mean there is no management."
China was ranked last in internet freedom, below Syria and Iran, in an annual report by Freedom House, a US pro-democracy thinktank.