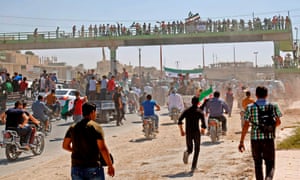 In the crowded towns of Idlib province in Syria's north-west, the displaced of the country's seven-year war have nowhere left to run.
Hemmed in by all sides in the long, savage conflict, up to 3 million people are bracing for imminent attack by Russian forces who sense victory in one of the last parts of Syria still out of regime control.
As the Russian navy manoeuvred in the nearby Mediterranean on Friday, other nations also took positions; the Turkish army sent an armoured convoy deep into Syria, Iranian-backed militias mobilised to the south and the Syrian army, battered by the arduous fight, and propped up by its allies, was placed on high alert.