Today, a number of people are losing their important data on a regular basis. Data is extremely delicate in nature, and can be lost due to a number of reasons. Loss of data can be a great blow to anyone, and can put several people into dire situations. In order to confront such situations, recovery software were created. These type of software allow the user to recover their important data from several situations, such as corrupted hard drives, corrupted files, virus infections, hardware crash, OS failure, partition issues, hard drive recovery etc.
EaseUS data recovery software is one of the finest recovery software available today, which has gained immense popularity among others. The software is known for its easy to use tools, functionality and interactive interface. Everything is placed rightly in front of the user, while all the procedures are as simplistic as possible.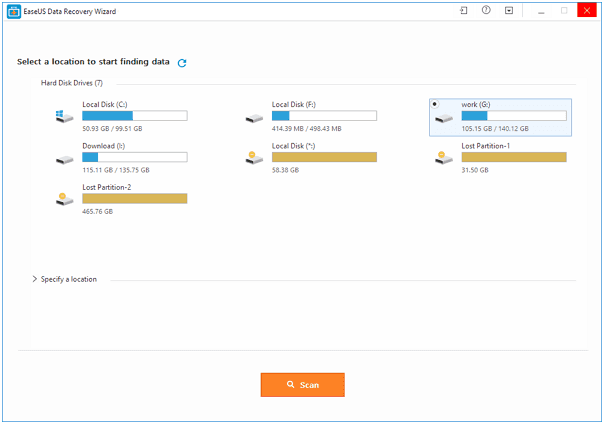 Selection Process
As soon as the software starts, it analyses all removable disks and connected hard disks. The user may then select one of them in order to begin the scan process. The scan process begins automatically, and is divided into two parts, the quick scan mode and deep scan mode.
The quick scan mode is a reliable and fast mode, which aims to deliver the results in a few minutes. It scans the memory for data remnants, left behind by lost files, or files, which have been recently deleted from the recycle bin.
The deep scan mode dives deep into the memory and recovers even more data remnants, which were previously skipped by the quick scan mode. It takes more time, and is more advanced in nature, due to which it even scans for inaccessible, hidden and system files.
Recovery Procedure
Once the scan modes end, the results are displayed on the screen. The user can choose to recover files with a single click. Multiple results can also be recovered together. One of the great features of this software is that it allows the user to preview the contents of the file, before recovering the file. This is useful when the user does not know the file name, and wishes to recover based on file name.
The user can search for files with name, or filter them according to their types. An import/export option is also provided to the user, in case he or she need to recover files again in future.
All these features combined with a single recovery software makes it the choice of everyone globally. The software is available to download from the official website of the company. It comes in four different package, with the first one being free, offering a trial of the software to the user. The other three packages are premium packages, with unlimited amount of data recovery and feature extended technical support.
If you are someone who has recently lost some important files, this is the recovery software you must opt for!