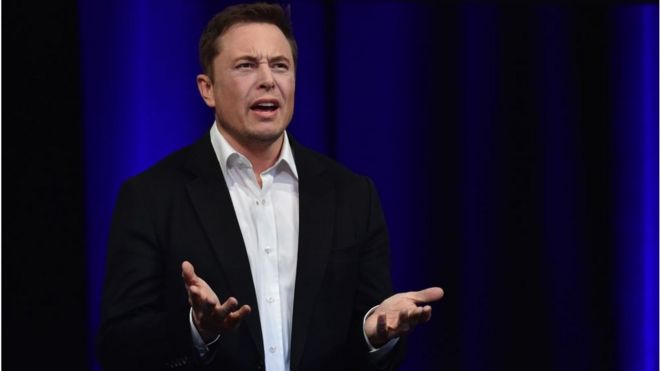 The electric car maker posted a record quarterly loss of almost $710m(£523m) for the three months to March – more than double the same period last year.
However, following a series of probing financial questions posed by analysts, Mr Musk decided to stop answering.
"Boring bonehead questions are not cool. Next," he said.
"We're going to go to YouTube. Sorry, these questions are so dry. They're killing me."
Instead, Mr Musk – Tesla's chief executive – took questions from YouTube vlogger and journalist Galileo Russell who was listening to the call. Mr Russell hosts a YouTube talkshow called HyperChange TV, dedicated to the financial side of Silicon Valley technologies.
Mr Musk encouraged Mr Russell to keep asking questions, because they focused more on technology, rather than business matters.
Among the questions Mr Russell asked Mr Musk was whether a Reuters article stating that the Model Y would start production in November 2019 was true.
Mr Musk replied: "The Reuters article is based on nothing. I don't know where that came from.
"It's probably closer to 24 months from now. Early 2020 is more likely for Model Y."
Tesla remains optimistic despite another record loss
Is Tesla heading for trouble?
Mr Russell also wanted to know why Tesla was opening up its Supercharger charging station technology and allowing other car companies to use the charging stations installed across the US too, rather than keeping it a secret. He used the metaphor of a "moat".
Mr Musk responded: "I think moats are lame.
"If your only defence against invading armies is a moat, you will not last long."
Investor focus
Tesla's shares fell 7% on Thursday as trading began on Wall Street.
Efraim Levy, equity analyst at CFRA, described Mr Musk's behaviour on the call as "erratic" and "impolite", but said the dramatic plunge in the share price was an "over-reaction". Instead, he said investors should be focused on the firm's bottom line and ability to deliver on its promises.
The passion that Tesla inspires, both among fans and critics, also means many investors are unfazed by Mr Musk's attitude, he added.
"The people I speak to, like shareholders… the ones that already hold it are usually willing to make the bet that he will deliver," he said.
"And there's an acknowledgement of either it can be a big winner or a big loser. It probably won't just stay in the middle."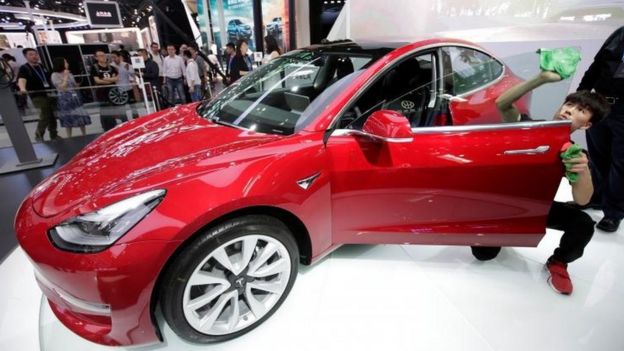 Tesla is currently struggling to produce enough of its Model 3 cars.
In the last week of April, it made just 2,271 cars, but it needs to ramp production up to 5,000 a week if it wants to be profitable in the second half of 2018.
Tesla told investors it had encountered manufacturing problems because it added "too much automation too quickly".
As a result, Model 3 production was suspended in mid-April in a planned shutdown, and the company expects a total of 10 days of downtime this quarter.
Revenues jumped 26% to $3.4bn in the first quarter of the year, but the electric car maker continued to burn through cash in the first quarter.
Tesla said it would cut capital spending this year to less than $3bn as it focuses on "near-term needs".
source:-.bbc.