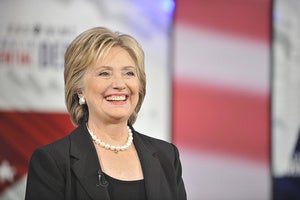 A Romanian hacker's claim that he broke into Hillary Clinton's private email server in 2013 was a lie, according to the FBI.
Marcel Lehel Lazar, also known as Guccifer, has boasted about the breach to various media outlets, saying in May that it had been "easy."
But on Thursday, FBI director James Comey said that Lazar, who is now in U.S. custody, has admitted the claim was false.
"He admitted that was a lie," Comey said during a congressional hearing on Clinton's use of her own private email server.
Lazar, originally from Romania, was extradited to the U.S. and is awaiting sentencing for breaking into the email and social media accounts of various U.S. officials as well as a member of the Bush family.
He has also claimed credit for hacking an email account belonging to an advisor of Clinton named Sidney Blumenthal. Emails from that account were leaked in 2013, providing evidence that Clinton had been using a private email server during her time as U.S. secretary of state.
Only two years later did details of Clinton's email server became front page news, leading to an FBI investigation.
Lazar was arrested in Romania in 2014 and claimed he had breached Clinton's email server on two occasions. Clinton has always denied there was a breach.
Earlier this week, when the FBI wrapped up its investigation of Clinton's email use,Comey said her actions had been "extremely careless," but that he had found no grounds to bring charges against her. Comey said it was impossible to rule out that the system might have been hacked, however.
There were "unsuccessful attempts" to hack Clinton's email server, he said Thursday, but he declined to elaborate, citing national security concerns.
["source-gsmarena"]