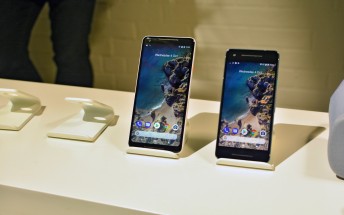 Aside from all the stuff that Google announced already, there are apparently some surprises left buried in the software of the upcoming Pixel 2 and Pixel 2 XL. Case in point: the new phones will automatically switch to Do Not Disturb mode when you're driving.
This has been discovered through a screenshot for a new app Google has uploaded to the Play Store. The app is called Pixel Ambient Services. As its name implies, it's Pixel-exclusive. It will take care of that always listening functionality for automatically identifying songs playing in your vicinity – and showing you the track's title and artist on your lock screen.
But it turns out that's not all this will do. The last screenshot in its Play Store listing is the image you can see above. It clearly describes a rule you can turn on, which will automatically enable Do Not Disturb mode when you're in a moving vehicle. That you are in that state will be determined by device motion and Bluetooth connections (say, if you connect your handset to your car through that technology).
It's unclear if Google will be able to tell who exactly is driving, so thankfully this can be turned off as you can see – it won't needlessly annoy you if you're a passenger or simply don't care about the functionality.
["Source-timesofindia"]