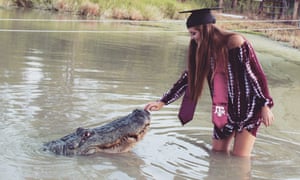 Makenzie Noland, a Texas student, poses for her graduation photo in cap, sash and – somewhat unusually – with an alligator.
The student shared the image on Facebook and Instagram with the caption "not your typical graduation photo", and found herself at the centre of the internet's attention.
"I am overwhelmed with how viral my post has gotten," she posted on Tuesday, "and to see everyone from my hometown pushing me to move forward and supporting me is truly incredible".
Noland is graduating from Texas A&M University with a major in wildlife ecology. She had been interning at Gator Country, where she met Big Tex, who at 13ft 8.5in (4.18 metres) is the largest alligator at the Beaumont-based rescue centre.