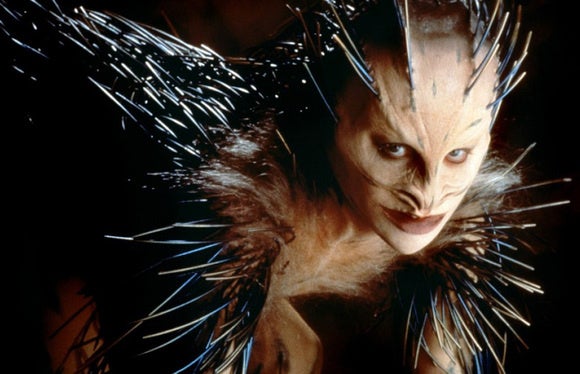 October has arrived. Monster month is here. And there's no shortage of horrific movies to stream, to celebrate, and to scare away unwanted spirits. To start, we have one of the scariest vampire movies ever made—despite its being nearly a century old—as well as one of the spookiest and most underrated ghost movies of recent years.
We have a monster movie from the early 1980s, a restored, creepy-crawly classic from the mid-1980s, a 1990s effort by an acclaimed horror author, and then a trilogy devoted to horror films watched on videocassettes during that time period.
For those looking for lighter-hearted fare, we have a gory, ultra-smart spoof of "dead teenager" movies, as well as a warmhearted romantic comedy with ghosts.
Then, because it's not always the witching hour, we have a Japanese classic that was recently released on Blu-ray, and an American classic that has become relevant again.
We have an action epic inspired by cinemas from around the world, and—finally—a brand-new comedy that has nothing to do with anything except for some big laughs and some big, furry hugs.
TABLE OF CONTENTS
Nightbreed (Netflix, Hoopla)
 Ghost Town (Netflix)
 V/H/S Trilogy (Netflix, Shudder, Hoopla)
Mascots (Netflix)
 The Story of the Last Chrysanthemum (Hulu)
SHOW MORE
Nightbreed (Netflix, Hoopla)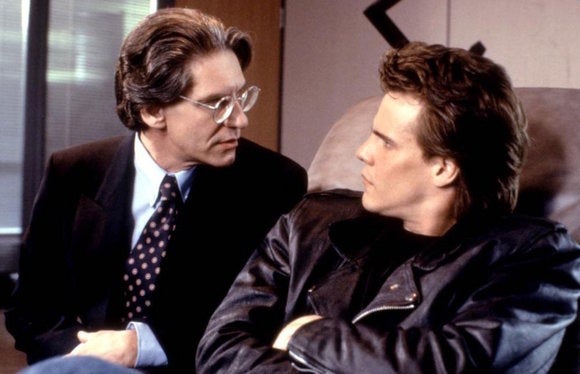 ★★★★☆
Horror author Clive Barker made a splash in the 1980s with his Books of Blood, officially endorsed by Stephen King as "the future of horror." It wasn't long before the creative Englishman began branching out into visual art and filmmaking. He wrote and directed the amazing 1987 Hellraiser, and followed it with Nightbreed (1990), based on his 1988 novelCabal. Though the theatrical release had been taken away and re-edited, Netflix now offers a recent director's cut. It stars Craig Sheffer as Aaron Boone, a man suffering nightmares about a monster-filled place called Midian.
His girlfriend Lori (Anne Bobby) encourages him to see a shrink, Dr. Decker (horror director David Cronenberg, in one of his few sinister acting turns); Decker is actually a murderer who tricks Boone. Eventually Boone finds his way to the real Midian and encounters many of the weird monsters there. Finally, Lori must also enter Midian to find Boone, but then there is Decker to deal with. Barker must have gone crazy with the latex and makeup, building dozens of imaginative, if slightly dated, creatures. The Director's Cut restores some of Barker's more exploratory pacing, allowing for weird discoveries rather than sudden shocks. After this, Barker only directed once more (Lord of Illusions), but his many stories continue to be adapted into strange and mind-blowing movies.
 Ghost Town (Netflix)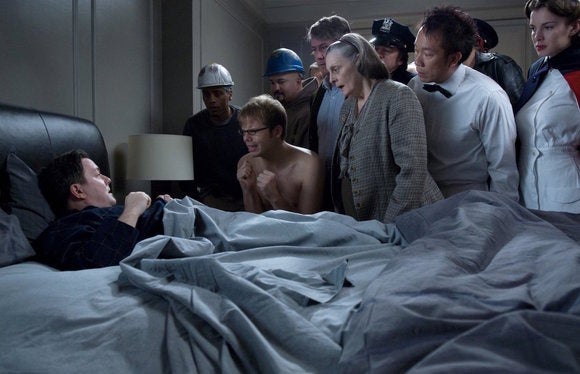 ★★★★☆
What could have been yet another high-concept romantic comedy turns into something quite surprisingly human and tender with Ghost Town (2008). Ricky Gervais stars as dentist called Bertram Pincus who dies for several minutes during a routine examination and receives the ability to see and communicate with dead people. They begin to pester him for favors, but since Bertram is a rather self-centered jerk, he really just wants to be left alone. A tux-wearing ghost, Frank (Greg Kinnear), promises him relief from the other ghosts, if he'll prevent Frank's widow Gwen (Téa Leoni) from marrying a suspicious new man.
Gervais is usually a little too prickly for parts like this, but the celebrated writer/director David Koepp, whose produced screenplays include Carlito's Way, Jurassic Park, andSpider-Man, somehow finds a lovely balance between familiar story beats and lingering moments in which the characters find their humanity. And Gervais manages a seamless transition from cretin to hero. Even the predictable outcome turns into a surprisingly touching ending. Alan Ruck plays a ghost and Kristen Wiig is particularly funny as a dental surgeon. For squeamish Halloween viewers, this movie could be an excellent October compromise.
 V/H/S Trilogy (Netflix, Shudder, Hoopla)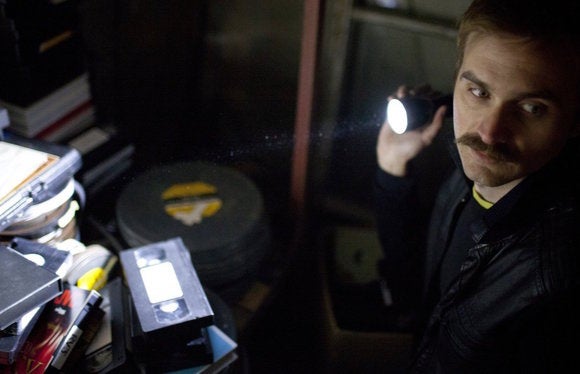 ★★★☆☆
Horror anthologies are a long tradition in the genre, going all the way back to classics likeWaxworks (1924) and Dead of Night (1945). The low-budget, "found-footage" V/H/Sseries seems dedicated to all those horror fans who grew up watching those and other classics on that fuzzy, inferior, but somehow endearing video format. V/H/S (2012) begins as a group of young folks break into a house with the task of stealing a particular video tape. They pop several tapes on and watch five different creepy stories. V/H/S/2 (2013) follows police who are investigating the missing youths from the first film, and who also watch a batch of tapes. V/H/S: Viral (2014) changes things up a bit, playing less with video formats and going with the idea of modern "viral" videos, as well as the unhealthy obsession with filming everything.
Directors of various segments include Joe Swanberg (Drinking Buddies), Adam Wingard (You're Next, The Guest), Eduardo Sanchez (The Blair Witch Project), Gareth Evans (The Raid 1-2), Jason Eisener (Hobo with a Shotgun), Nacho Vigalondo (Timecrimes), and the great Ti West (The House of the Devil, The Innkeepers). West's segment "Second Honeymoon" is more focused on characters than some of the others, while "10/31/98" takes place on Halloween night and features some surprisingly good effects. Netflix offers all three movies, while Amazon Prime features only the first one. All three are also available on Hoopla Digital, a free service available through the public library.
Mascots (Netflix)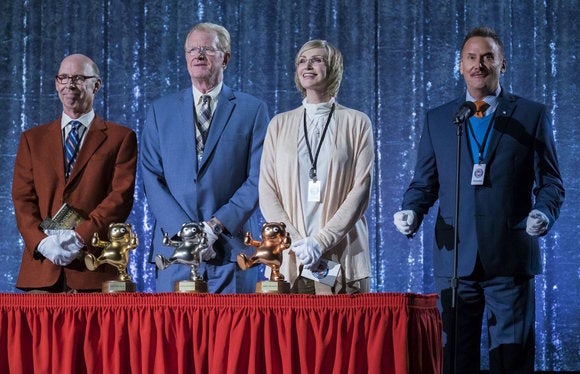 ★★★★☆
Saturday Night Live alumnus Christopher Guest is best known for his "mockumentaries," beginning with his work as writer and performer in Rob Reiner's classic comedy This Is Spinal Tap, and then with his own directorial career, including Waiting for Guffman, Best in Show, and A Mighty Wind. The Netflix original Mascots (2016) is his latest, and it's one of his best. It follows several sports team mascots in their giant costumes as they compete for the annual "Fluffy" awards. There's a giant fist (Chris O'Dowd), an armadillo (Parker Posey), a hedgehog (Tom Bennett), and more. In human form, there's Jane Lynch, Fred Willard, Ed Begley, Jr., Don Lake, Bob Balaban, Jennifer Coolidge, Michael Hitchcock, and John Michael Higgins. The rumbling pipes of Harry Shearer can be heard announcing.
Zach Woods and Sarah Baker join Guest's usual cast of improv geniuses, and Guest himself reprises his Guffman role "Corky St. Clair." But the breakout discovery here is Susan Yeagley as Parker Posey's blonde, gum-chewing sister, an airhead southern belle with grown kids (and a grandchild), but with a genuine sweetness that still turns heads.Mascots works where some of Guest's other films did not because of this type of honest affection that occasionally, surprisingly, rears its head; he manages not to make fun of these wackadoodle dreamers, and instead celebrates their delightful art. The movie isn't as hysterically funny as Guest's earlier work, but it's more consistently funny; the energy doesn't flag as the third-act competitions begin. Indeed, Mascots is perfect for Netflix, because it's one I'll be watching again.
 The Story of the Last Chrysanthemum (Hulu)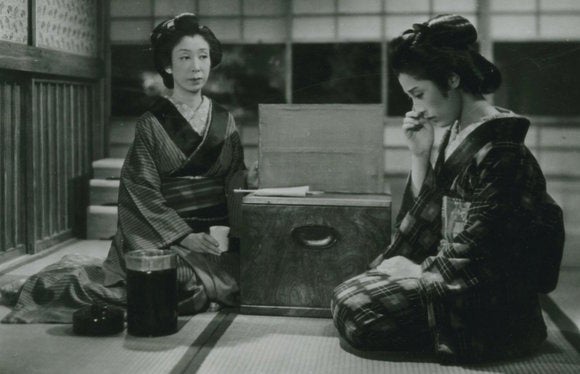 ★★★★★
Recently released on Blu-ray by the Criterion Collection, this Japanese movie is a true masterpiece of cinema, one that anyone interested in film ought to see. Director Kenji Mizoguchi is generally less well-known than his countrymen Akira Kurosawa or Yasujiro Ozu, but diehard cineastes know that he's easily their equal, if not their superior. The Story of the Last Chrysanthemum (1939) is something of a soap opera and a "woman's story," a genre with which Mizoguchi concerned himself throughout his career. But it's also a compendium of sublime, poetic camera movements, and a primer on how to make an emotionally resonant movie.
In the late 19th century, Kikunosuke (Shotaro Hanayagi) is the adopted son of a famous and legendary Kabuki actor. He's a terrible actor himself, but he has inherited fame and is worshipped and adored. At home, the wet nurse, Otoku (Kakuko Mori), of his baby brother is the first to tell him to his face that he's no good, and he comes to respect her, and love her, for this. However, his father banishes him and he spends years in miserable little theater troupes perfecting his craft, Otoku at his side. Of course, there's a heartrending turn of events, but Mizoguchi depicts all the story's chapters with incredible grace, patient, lengthy shots, intuitive blocking, and remarkable camera movements that always seem to compliment the emotional shifts therein.
 Kill Bill Vols. 1-2 (Hulu, Amazon Prime)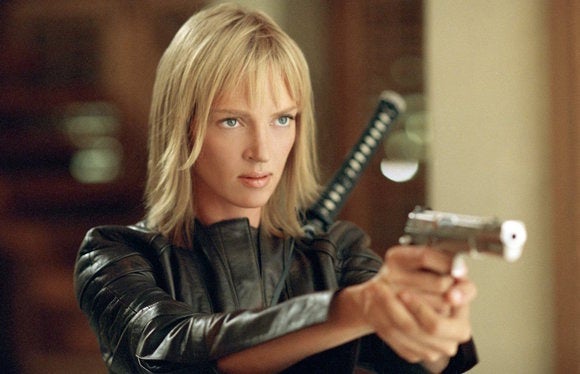 ★★★★☆
After making his most soulful film, Jackie Brown, Quentin Tarantino was absent from the film scene for six long years, finally returning with something quite the opposite: Kill Bill – Vol. 1 (2003) and Kill Bill – Vol. 2 (2004). It was originally conceived as a single movie, but it was split to keep the running time more manageable. This revenge epic, in which the "Bride" character (Uma Thurman) vows to kill five former cohorts for wronging her, seems quite a bit shallower by comparison, but its huge canvas and its pastiche of films and genres from all over the world make it more like an incredible, enthusiastic essay on film. Even so, by the time it arrives at its revealing finale, it's hard not to be moved by the Bride's story.
Her adversaries (who all have snake-related nicknames) are Vernita Green (Vivica A. Fox), O-Ren Ishii (Lucy Liu), Elle Driver (Daryl Hannah), Budd (Michael Madsen), and, of course, Bill (David Carradine). It's hard to imagine a more basic, simplistic movie with a more complex tapestry. The sets range from a suburban kitchen to a snow-covered patio, with techniques ranging from black-and-white to anime. RZA from the Wu-Tang Clan contributed to the music score, which also includes pop songs from across the ages and around the world. Japanese star Sonny Chiba appears as a sword-maker, and American Michael Parks appears in multiple roles.
 The Innkeepers (Hulu, Shudder, Hoopla)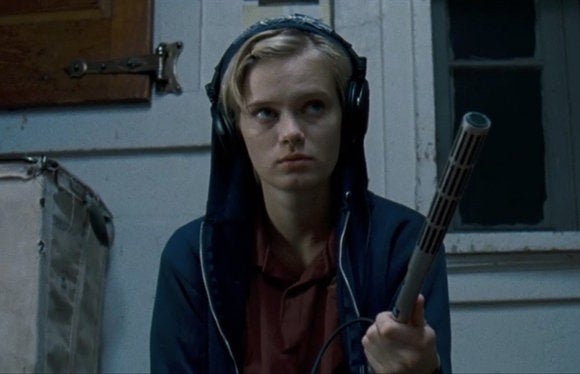 ★★★★☆
Ti West directed this, my favorite horror movie of the past ten years. The Innkeepers(2012) takes place during the final weekend of the Yankee Pedlar Inn, which is about to close its doors for good. Two employees, Claire (Sara Paxton) and Luke (Pat Healy), have agreed to cover their shifts by spending the entire weekend there, sleeping in the empty rooms. Meanwhile, they hope to use the opportunity to find evidence of the hotel's famous ghost, Madeline O'Malley. West's approach is absolutely unique, establishing a playful relationship between the two co-workers, as well as some deeper, unspoken feelings. Each character is given a vivid personality, gleaned not only through dialogue, but visually as well.
The movie is a slow burn, with West fully establishing the space and the situation, building a palpable sense of excitement and dread, before unleashing the scares; his camerawork and editing is smooth and confident, far above the usual, twitchy stuff we get in ghost movies. Kelly McGillis, that huge star from the 1980s movies Witness and Top Gun, appears as a retired soap star, Leanne Rease-Jones, staying at the hotel. (McGillis has had a recent comeback as a scream queen in this, Stake Land, and We Are What We Are.) West's movie was a follow-up to his equally good The House of the Devil(2009), making him—for fans of chillers—a director to watch.
 Tucker & Dale vs. Evil (Netflix, Amazon Prime, Hulu, Shudder, Hoopla)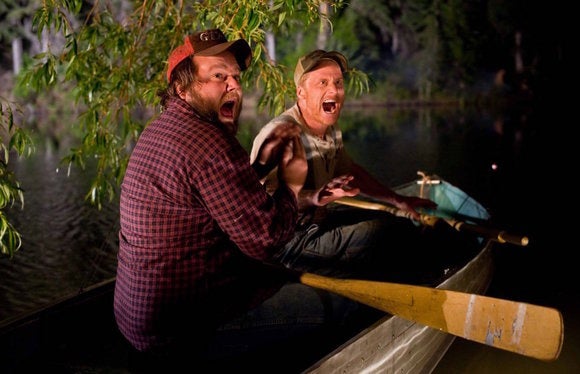 ★★★★☆
Within a few months of each other, two brilliantly funny deconstructions of the horror genre came along. Joss Whedon and Drew Goddard's The Cabin in the Woods was more elaborate, but Eli Craig's Tucker & Dale vs. Evil (2011) was perhaps more dead-on, and dead funny. Specifically sticking to the "cabin in the woods" genre, the movie begins with the usual batch of good-looking college students looking for a good time camping. Usually in these kinds of movies, the students stop for gas and creepy locals give them a hint of what's to come. This movie actually follows the creepy local hillbillies, Tucker (Alan Tudyk) and Dale (Tyler Labine), who turn out to be incredibly nice guys.
All they want is to fix up their vacation home, a run-down cabin in the woods (of course), but then the teens begin showing up, and dying in brutally gory ways, all around Tucker and Dale; it looks as if our hillbillies are responsible, but they are, in fact, totally innocent. It's an ingenious idea, cleverly employing even the tiniest cliches of the horror genre, and beautifully sold by the performances of Tudyk and Labine, as well as Katrina Bowden as "final girl" Allison. Nothing is telegraphed or overly explained; this is the rare movie that allows the audience to catch on at its own pace. If it's not already, it deserves to become a cult classic.
 The Thing (Crackle)
★★★★★
Like most of director John Carpenter's movies, this one wasn't fully appreciated in its day, at least by the critical elite. Box office wasn't really on fire, either; as far as aliens went, moviegoers far preferred a cuddly one (E.T.) to a malevolent one. Yet fans eventually figured it out, and in the years since, the general consensus on The Thing (1982) has turned around. It's now considered a genre masterpiece and a classic of the grotesque. It's also one of the few remakes that was as good as (or better than) the original, Howard Hawks' and Christian Nyby's The Thing from Another World, released in 1951.
Kurt Russell stars, in his third of five films with Carpenter, as R.J. MacReady, a helicopter pilot working at an American research station in the Antarctic. A dog makes its way there, pursued by armed Norwegians. The Americans rescue the dog, totally unaware of what it's carrying. Carpenter heightened the paranoia of the story, creating a monster that could take the shape of anyone or anything, and enclosing the arctic setting so that the characters are constantly surrounded by cold and dark. They cannot leave their man-made compound, even though the terror could literally be around any corner. Wilford Brimley and Keith David also star. Although Carpenter usually provides his own musical scores, for this one, the legendary Ennio Morricone did the honors. A 2011 remake/prequel followed, but was deservedly forgotten.
 Do the Right Thing (Crackle)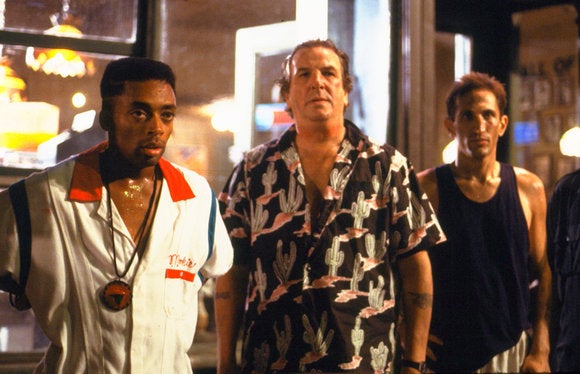 ★★★★★
A different kind of "Thing," Spike Lee's Do the Right Thing (1989) deserves to be part of the national conversation again, given its appearance in the recent film Southside with You, as well as the controversial release of the new The Birth of a Nation. Nate Parker's new film is a rabble-rouser without offering much chance to ask questions; Lee's film is a rabble-rouser that dares us to ask questions. It takes place on a scorching hot day in Brooklyn, in the neighborhood of Bedford-Stuyvesant (or Bed-Stuy). We meet many memorable characters, all with interesting things to say, but the main events center around pizza delivery man Mookie (Lee), Radio Raheem (recently departed Bill Nunn), and the pizzeria's owner, Sal (Danny Aiello).
As the day wears on and tensions rise, sometimes over race and racial misunderstandings, things come to a head as Radio Raheem enters the pizza parlor, blasting Public Enemy on his radio. The climax, an act of violence by Mookie, had commentators discussing the many sides of the story, as well as others fearing real-life riots if they went to see the movie. It all ends, famously, with seemingly conflicting quotes from Martin Luther King and Malcolm X. Lee's screenplay and direction were masterful, using rhythms, music and color like a pro, and raising the tensions slowly, using humor and other tools. Frankly, for most of its running time, it plays like a comedy. It received only two Oscar nominations, for Lee's screenplay and for Aiello's supporting performance, in the year that Driving Miss Daisy won Best Picture. #OscarsSoWhite indeed.
 Phenomena (TubiTV, Hoopla)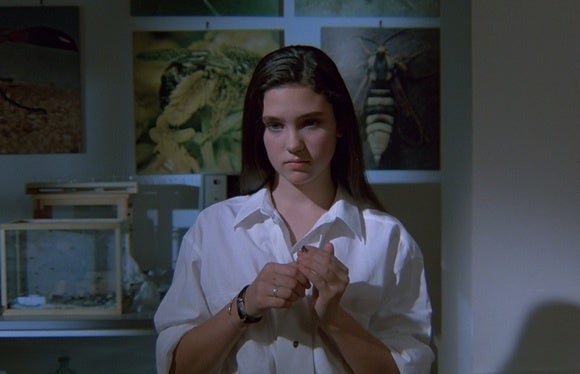 ★★★★☆
Many horror buffs know about the famous Italian master Dario Argento, but few have probably seen many of his movies outside of his great Suspiria (1977). When this movie was first released, it was chopped by some 30 minutes and re-titled Creepers (I owned a VHS copy). Since then, it has been restored to its full-length 116-minute version, as well as its original title, Phenomena (1985). The beautiful teenage Jennifer Connelly had been cast in her first movie role in Sergio Leone's Once Upon a Time in America (1984), and it's likely that Leone recommended her to Argento for his heroine Jennifer, a gifted young woman who can talk to insects.
Jennifer arrives at an Academy for Girls in the countryside (not unlike the one inSuspiria), where several murders have already taken place, and she begins sleepwalking. She discovers the nearby laboratory of a forensic entomologist, John McGregor (Donald Pleasence), and his chimp. Together they begin to figure out the mystery, but not before Jennifer gets herself involved with tons of maggots, a fly attack, and other creepy things. Argento was more of a master of atmosphere than storytelling, so it takes more than a little suspension of disbelief to get behind all this, but it's worth it. The unsettling music score is by Goblin, but the movie also features tunes by Iron Maiden and Motörhead.
 Nosferatu (Fandor, Shudder)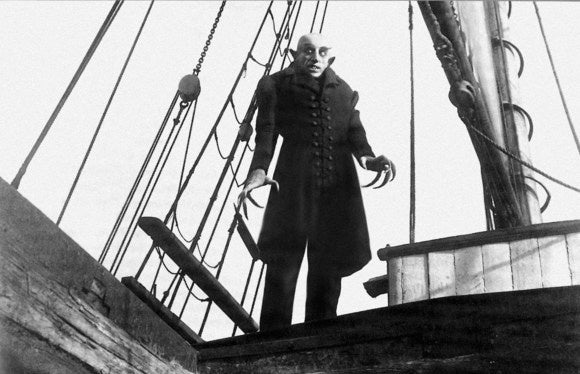 ★★★★★
The Cabinet of Dr. Caligari came a couple of years earlier, so Nosferatu (1922) isn't the first great horror movie, but it's probably the earliest one that's still genuinely unnerving. Director F.W. Murnau is today considered the greatest master of German Expressionism in cinema, using odd angles, sets, and designs to indirectly suggest emotions. For this film, Murnau decided to tell the story of Bram Stoker's Dracula, simply changing the names of all the characters. Stoker's widow found out about it, sued, and tried to have all the prints destroyed; fortunately, she failed. A better film of Dracula has yet to be made.
The vampire is now Count Orlok, played by Max Schreck in rat-like makeup. He's so creepy that an entire feature film, Shadow of the Vampire (2000), starring Willem Dafoe, was made on the suggestion that he was actually a real vampire. Shots of his silhouette, rising from his coffin, or traveling through a mysterious "negative" film exposure still have the power to make your blood run cold. Many musical scores have been composed for the film for various DVD releases, but Fandor features a gorgeous, full orchestral one, and also an unbelievably rich, high-definition transfer that has to be seen to be believed. Murnau only lived another nine years, dying in an auto accident in 1931 at age 42, but he made many masterpieces in his remaining time, including The Last Laugh, Tartuffe, Faust,Sunrise, and Tabu. Each of these are worth checking out.
source"cnbc"