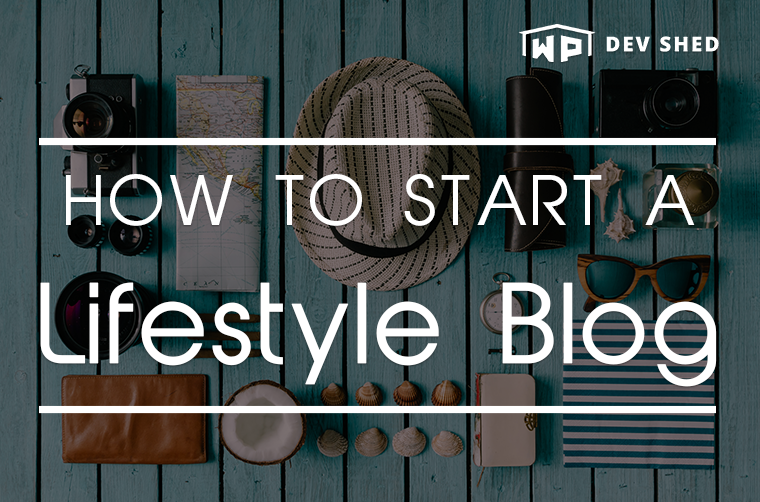 Blogging is a way to share your take on the world. This highly personalized medium allows you to shape your platform based on your experiences, thoughts and opinions for readers who happen to share the same interests.
Of course there are many types of blog, from personal to business blogs, and in this article we share our experience on how to start a lifestyle blog.
How to Start a Lifestyle Blog
What Is a Lifestyle Blog?
Lifestyle blogs are focused on your lifestyle, more specifically, your hobbies, passions or routines.
Some notable topics include home organization, yoga, fusion food cooking, women's fashion, and vintage interior design. Every such type of blog resonates with who the author is as a person because these blogs are essentially a person in words and the world through their point of view.
No two lifestyle blogs are the same. Some blogs share the same general category, such as fashion or travel; however, yours will always revolve around your own personalized niche, such as fashion on a budget, for example. It is evident that lifestyle blogs are extremely unique which is why they are popular amongst bloggers and readers.
Not only does the variety compel readers all over the internet, but the material you can gain from following such blogs are sometimes content you cannot learn from anywhere else. Tips, advice, or even life hacks from lifestyle blogs are based on real experiences by real people which can be difficult to find nowadays.
Lifestyle Blog vs. Personal Blog
One of the more confusing aspects regarding lifestyle blogs is the differentiation from personal blogs.
Both styles do revolve around the authors' lives. However, lifestyle blogs are about interests seen from the author's perspective. This type of medium tends to consist of advice, information, ideas, and some personal thoughts throughout their content.
On the other hand, personal blogs are analogous to online diaries that share the experiences, feelings, and opinions of the writer.
Lifestyle blogs can have components of personal blogs in their posts, but personal anecdotes should be kept to a minimum to keep the blog's focus on the topic itself rather than the life events of the blogger.
These blogs also differ in what they offer to readers. Lifestyle blogs are notable in that they provide something for readers to take away. Supporters can always learn something such as cooking recipes, organization tips or travelling precautions.
Personal blogs serve content that readers can relate to emotionally through shared stories regarding personal experiences.
Distinguishing these two types of blogs can be tricky. It all comes down to the type of content the medium consists of and what experience is offered to readers.
How to Choose Your Lifestyle Blog Topic or Niche
Embody Your Interests
Because lifestyle blogs are about your interests, listing out topics you are interested in is your best bet.
Think about aspects of your life that you feel best identifies you. To help, you can reflect on milestones in your life that you feel have made you who you are. Adopting a child or facing failure are examples of life events that could have sparked a passion of yours that can turn into a successful blog.
Your lifestyle blog can be about a broad topic, such as cooking, or it can be a combination of more specific topics, such as gardening, food, and budgeting. Just keep in mind that if you have multiple topics, they should relate on some level otherwise your blog can seem disorganized and it can be more difficult to attract a solid following.
Also, avoid subjects that are too specific as they can be limiting when it comes to creating actual content.
When brainstorming your blog's topic, it is highly recommended to choose something you truly know about.
This may seem obvious, but it is easy to choose something based on what seems popular at the time instead of a niche that works best for you. Having personal experience with your field not only gives you content to write about easily, but it brings credibility and trust that your readers will appreciate.
It is much more rewarding to gain supporters by sharing honest content rather than faking your knowledge in the long run just for the attention.
After recognizing your passions or hobbies, consider the nature of them. The best topics for you are not only ones you have a lot of experience with, but also those that you can write about for a long time and still enjoy it.
A solid niche for your blog will provide a lot of quality and interesting content for years to come. You also want to make sure your readers will stay interested by writing new and relevant posts. Certain topics can fade out of relevancy and your posts can become dull.
Sometimes, it is difficult to create a list of topics you are truly interested in and can start a successful blog on. To help with this step, consider items you tend to surround or occupy yourself with on a daily basis.
Look over your pins on Pinterest, the pictures you save on Instagram or the posts you retweet on Twitter. Also, look into other successful blogs to gauge the types of niches that have lasted over time.
Reflect on Your Goals
By considering why you want to blog in the first place, you can reflect on your goals to come up with your blog niche.
If there is a message you want to send throughout your content, shape your topic around it. The type of information you like to share or the advice you want to give can also guide you to your perfect niche.
Another method to curate your blog's focus is to think about your target audience, and their goals and desires.
What inspiration would your readers need? What would they want to take away from your blog? What would make people come back for more?
Understanding what is relatable yet new to others is a powerful weapon when beginning your blog.
Consider Your Competition
If making money is a main factor in lifestyle blogging, scoping out your competition is a smart move when deciding what direction to take your blog.
You want to make sure your topic will allow you to offer content that others do not and to give readers a reason to return to your blog specifically.
Another factor involved in making money through blogging is how easily you can actually bring in profits. Ensure your content will stay relevant enough to earn the money.
Make sure there are keywords, advertisements and companies that will work for you and appeal to readers. To check for these factors, research is your best move. Utilize online tools that present data regarding how popular certain keywords are.
Also, look into trending topics, popular items being bought online and companies that other bloggers are working with.
Looking into these areas gives you an idea of what to expect when your blog picks up and financial prospects get involved, and whether those outlooks match your goals.
["source=wpdevshed"]