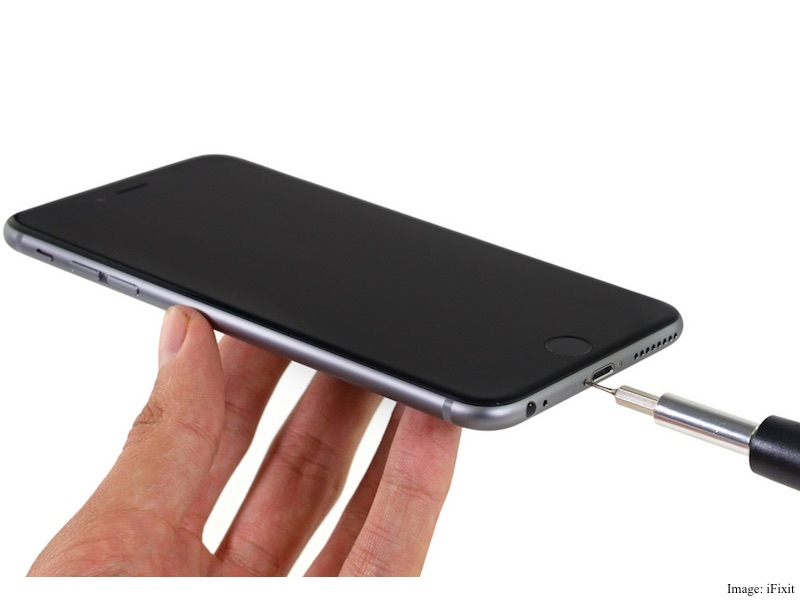 The iPhone 6s Plus is a substantial upgrade to the iPhone 6 Plus, and at its core, it isn't much different from its smaller-sized sibling iPhone 6s, reveals its teardown by the good folks over at iFixit. It's heavier than its predecessor, and sports a smaller battery.
Much like the iPhone 6s, the iPhone 6s Plus too comes with a heavier display assembly. iFixit noted that the display itself weighs in at 80 grams – a jump from 60 grams on the iPhone 6 Plus. The extra load is understandable as the company has fitted a new display called 3D Touch, which comes with an additional layer for gauging pressure input.
Moving on, the Taptic Engine comes with a rubber bumper presumably for additional safety. Interestingly, at 15x8x4.9mm dimension, the Taptic Engine in the iPhone 6s Plus is significantly smaller than its counterpart in iPhone 6 Plus, which measured 35x6x3.2mm.
The battery is smaller, going down from 2915mAh to 2750mAh. It's worth noting that Apple assures the iPhone 6s Plus will last as long as the iPhone 6 Plus on a single charge – which is 14 hours of 3G talk time, or 10 hours of Internet use, or 10 days of standby time.
While the camera on the iPhone 6s Plus and iPhone 6s are different, the component doesn't look very different, folks at iFixit noted. "At first glance, the iSight camera in the 6s Plus is fairly similar to the one found in the 6s. When the two cameras are laid out side-by-side though, the additional heft of the optical image stabilisation hardware in the iPhone 6s Plus camera becomes readily apparent."
(Also See: iPhone 6s Teardown Shows Off Smaller Battery and More )
As for the juicy specifications information, the A9 chipset in the iPhone 6s Plus comes paired with a SK Hynix-made LPDDR4 RAM (instead of Samsung's LPDDR4 RAM as in the iPhone 6s), speculated to be 2GB in size. Other features include a SK Hynix H230DG8UD1ACS 16GB NAND flash storage, a Qualcomm MDM9635M LTE Cat. 6 modem, a TriQuint TQF6405 Power Amplifier module, a Skyworks SKY77812 power amplifier module, and an Avago AFEM-8030 power amplifier module among others.
The iFixit team noted that the Lightning connector assembly has been implemented in a manner to save space within the smartphone, however, much like the iPhone 6s, damage to Lightning connector or headphone jack will require the entire assembly to be replaced. The team further said that the display assembly, as well as the battery are not hard to access, and could be easily be replaced. The Touch ID component is paired to the logic board, which complicates repairs, while the exterior features proprietary screws.
["source-gadgets"]