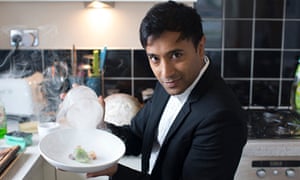 What?
The Polyscience Smoking Gun, (£59.99, souschef.co.uk) is a mesh chamber over a fan, in handheld casing. Fumes from material combusted in the cage are drawn into and expelled from a pipe at the device's fore.
Why?
All the cool kids smoke.
Well?
The taste of smoke takes us back to the fire, the cave, the Raquel Welch in a fur bikini. They truly were the good old days – before smartphones, when your only worry was dying of malnutrition or being tusked by a mammoth. The primal can engender a false machismo (watch how men stand at a barbecue). When I taste smoked meat or fish, I like to imagine I cured it myself, from a lone bivouac in the Blue Ridge Mountains.
In reality, I use a shoehorn and am always first to detect rain at a garden party. As a beta-male fantasist, I am all sorts of interested in a home smoker that looks like a gun. Propped on the stand, it resembles an SAS langoustine crouched over a Gatling. In use, it's a blast – tamp smoking material into the bowl, touch a lighter to it and pungent exhaust streams everywhere. (The technique feels strangely familiar; I wouldn't be surprised to have been told the device's full name is Bong, James Bong.)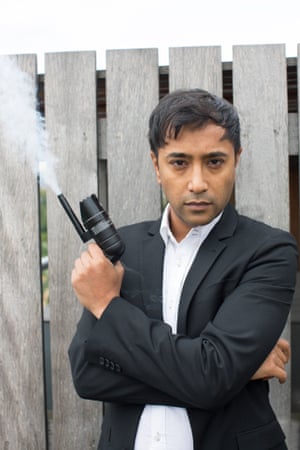 Smoking has always been cool, and literally so here. The room-temperature vapour won't cook food, so can be used on a huge range of delicate, non-caveman comestibles such as cocktails, asparagus and hummus. Scallops served in a smoke-filled cloche are particularly Instagram-friendly, a trio of sexy molluscs emerging from dry ice like Destiny's Child at the MTV awards. A hose attachment is included, so you can direct a fine stream of smoke under a bedroom door to freak out a loved one. It also comes with two small bottles of flavoured woodchips, both delicious.
This is surface cold-smoking, which means carbonised flavour won't permeate food as deeply as with outdoor smokers. But those are huge, expensive and require hours. This ballistic beauty takes 30 seconds, in which time you can pretend to be a kitchen assassin. You can't say that about a sandwich toaster. Guns are grim things, but this is the most fun you can have without a licence. Put that in your pipe and smoke it.
Any Downside?
Once you start, it's hard to stop. Do they do hickory patches? Applewood vapes? I smoked a grape yesterday.
Counter, drawer, back of the cupboard?
On the counter, a weapon of much distraction.
4/5
["source-theguardian"]