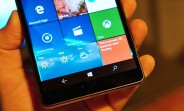 Although Microsoft hasn't revealed how many Lumia smartphones it sold in the second quarter of this year through its regular quarterly financial results, the company has an SEC filing out today that clears that up. In the document, Microsoft mentions that in its fiscal year 2016 (which started on July 1, 2015, and ended on June 30 this year), it sold 13.8 million Lumias in total.
The number for the April to June quarter of 2016 (Microsoft's fiscal Q4) is easy to calculate because we have official numbers for all the other three quarters – sales were 5.8 million in Q1, 4.5 million in Q2, and 2.3 million in Q3.
That means the company managed to nearly halve its Lumia sales from the January to March quarter to the April to June quarter. In this year's Q2 (its fiscal Q4) Microsoft only sold 1.2 million units. That's abysmal performance but really isn't surprising considering how Microsoft has been moving away from focusing on building smartphones lately. The trend is clear, with sales also nearly halving from its fiscal Q2 to fiscal Q3. At this rate in a few quarters Microsoft won't be selling any smartphones at all.
Source | Via
["source -cncb"]