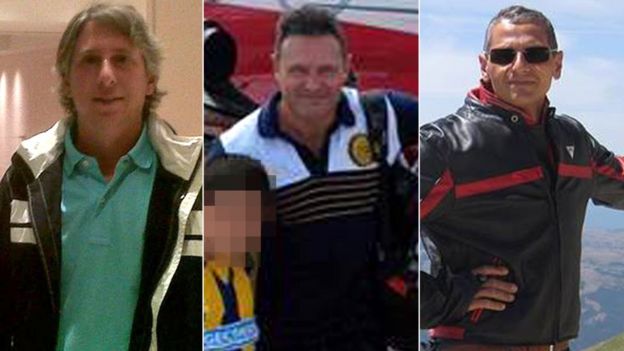 Five friends from Argentina were among those killed in a truck attack in New York on Tuesday.
Eight people were killed and 12 injured when the driver of the truck hit people on a cycle path in Lower Manhattan.
Suspect Sayfullo Saipov, 29, an Uzbek immigrant, was shot and injured by police. He is in hospital and under arrest, and police have spoken to him.
Notes in Arabic claiming the attack on behalf of the Islamic State (IS) group were recovered from the scene.
New York Police Department (NYPD) Deputy Commissioner John Miller said the attacker had closely followed IS instructions from social media on how to carry out such an assault, and had been planning it for a number of weeks.
It was the deadliest terror attack in the city since 11 September, 2001.
Who were the victims?
The deaths of five Argentines were confirmed by the country's foreign ministry. They were part of a group of nine friends in New York to celebrate the 30th anniversary of their graduation from a polytechnic college in the central city of Rosario, Argentine media said.
One of the men who died, steel firm owner Ariel Erlij, helped pay for the friends' trip, La Nación newspaper reported (in Spanish).
What we know and don't
Read more on the victims
Trump calls for end of green card lottery
The men – all aged 48 or 49 – were named as Hernán Diego Mendoza, Diego Enrique Angelini, Alejandro Damián Pagnucco, Ariel Erlij and Hernán Ferrucci.
Another of the friends, Martín Ludovico Marro, is being treated in hospital. Three days of mourning have been declared in Rosario.
Belgian officials said Anne-Laure Decadt, a 31-year-old from Staden in Flanders, was also killed. Three Belgians were wounded.
Two other victims, both Americans, have not yet been named.
How did the attack unfold?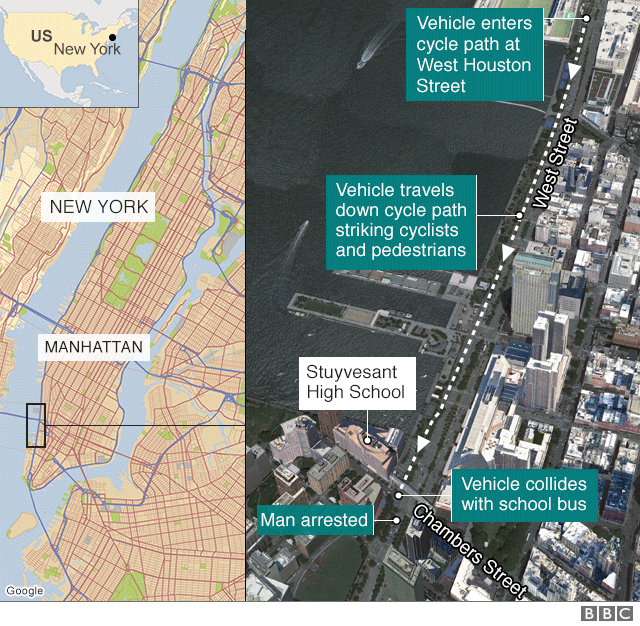 The attacker rented the truck from a New Jersey branch of retailer Home Depot on Tuesday afternoon before driving to New York City and entering the bike lane, police said.
Video cameras show the van driving at very high speed, appearing to target bike riders and pedestrians.
After the van collided with a school bus, its driver emerged and brandished what appeared to be two weapons.
A suspect was shot and wounded by police officer Ryan Nash, 28, one of three NYPD officers who attended the scene after being alerted by witnesses.
Police say the suspect is currently being treated at Bellevue hospital, where he has been interviewed by officers.
Knives, a paint gun and a pellet gun were recovered from the scene.
Police say the suspect is currently being treated at Bellevue hospital in the city, where he has been interviewed by officers.
Who is the suspect?
Sayfullo Saipov had reportedly lived in Tampa, Florida, and Paterson, New Jersey.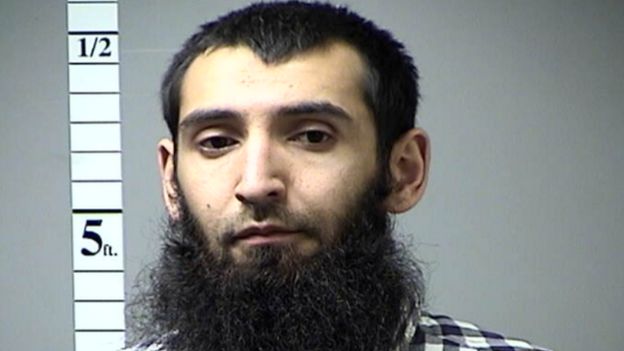 He arrived in America from Uzbekistan in 2010 and is a legal resident in the country. Uber confirmed he had been working as a driver for them.
In pictures: New York truck attack
Who is the suspect?
What witnesses saw and heard
Three officials said Mr Saipov had previously come to the federal authorities' attention because of an unrelated investigation, the New York Times reported.
Police records show he was arrested in Missouri last year over a traffic fine.
Uzbekistan's President Shavkat Mirziyoyev told President Donald Trump his country was ready to "use all forces and resources" to help investigate the attack. Uzbek officials have not yet confirmed the identity or nationality of the attacker.
What has been the reaction?
President Trump took to Twitter to call the attacker "a very sick and deranged person", adding: "We must not allow ISIS [Islamic State] to return, or enter, our country after defeating them in the Middle East and elsewhere. Enough!"
He also announced he had ordered extreme vetting to be stepped up, without elaborating further.
Mr Trump first said he wanted "extreme vetting" of immigrants during his presidential campaign last August. As president, he introduced a ban on arrivals to the US from a number of mainly-Muslim countries – a move that has been challenged legally and is due before the Supreme Court in the coming weeks.
The American Civil Liberties Union civil rights group said the term extreme vetting was a "euphemism for discriminating against Muslims".
Early on Monday, he called for a "merit-based" visa system and attacked Democrat rival Chuck Schumer for having pushed for the creation of a diversity visa – or green card lottery – in the early 1990s.
A diversity visa is given to residents of countries with few immigrants to the US. A friend of Mr Saipov told the BBC the 29-year-old had obtained his residency this way.
Mr Schumer responded to Mr Trump on Twitter, saying: "Always believed & cont. to believe that immigration is good for America. President Trump, instead of politicizing & dividing America, which he always seems to do at times of national tragedy, should focus on anti-terrorism funding which he proposed cutting in his budget."
New York City Mayor Bill de Blasio said the incident was a "cowardly act of terror aimed at innocent civilians".
"We know that this action was intended to break our spirit. But we also know that New Yorkers are strong, New Yorkers are resilient and our spirit will never be moved by an act of violence and an act meant to intimidate us," he said.
Source:-bbc