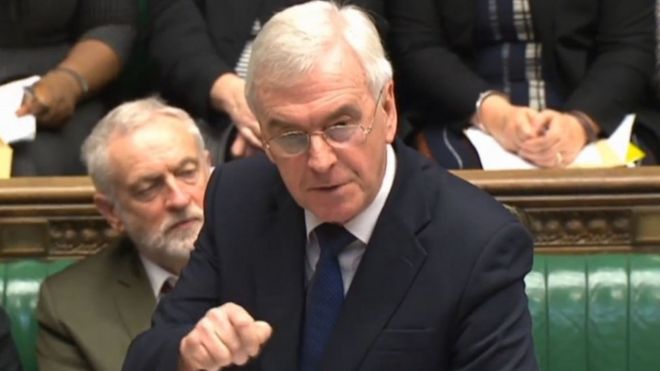 John McDonnell said he expected the PM to respond by "expelling diplomats".
But he said seizing the assets of those "who are abusing human rights… Russia included" would be more effective.
Theresa May is expected to announce measures against Russia after it failed to provide answers about the poisoning.
Russian spy: Poisoning response deadline passes
Russian spy: What we know so far
Spy poisoning: How could the UK retaliate against Russia?
Russia has denied any involvement in the attempted murder of Sergei Skripal and his daughter Yulia in Salisbury.
The prime minister is meeting senior intelligence chiefs in Downing Street and is expected to give an update to MPs at about 12:30 GMT, after Prime Minister's Questions.
Mr McDonnell said he was not in favour of the UK boycotting the 2018 FIFA World Cup tournament in Russia, which begins in June.
"I'm more in favour of fans going and mixing with Russian people, because at people-to-people level, you can isolate the politicians," he told BBC Radio 4's Today programme.
"If it's just England withdrawing, it won't be effective."
Russian spy: Row over Jeremy Corbyn's response to May statement
Instead, he called for the government to back a Magnitsky clause in the Sanctions and Anti-Money Laundering Bill, which is currently going through Parliament, and would allow the National Crime Agency to target the assets of foreign officials involved in corruption and human rights abuses.
"You then ensure you hit them in the pocket, you follow the money, you prevent them having bank accounts, using the City of London to launder their money, that sort of thing," he said.
"This legislation could apply much more broadly – we're trying to say to the government it won't just be Russia we have to deal with on these sort of human rights abuses, it will be others in the future. If you lay those foundations now, you can use it more effectively."
Mr McDonnell defended Jeremy Corbyn's response to Mrs May's earlier statement on the poisoning of the Skripals, in which he criticised the Conservatives for accepting donations from "Russian oligarchs".
Mr Corbyn told MPs the UK needed to seek "a robust dialogue with Russia on all the issues dividing our countries, both domestic and international – rather than simply cutting off contact and simply letting tensions and divisions get worse, and potentially even more dangerous".
Russia Today TV channel
To cries of "shame" and "disgrace" from Conservative MPs, he added: "We're all familiar with the way huge fortunes, often acquired in the most dubious circumstances in Russia, sometimes connected with criminal elements, have ended up sheltering in London and trying to buy political influence in British party politics."
Mr McDonnell said the Labour leader had been "very careful in saying we have to have due process, both to give the government time and Russia time to respond".
"The point he was making is we have to hit them hard where we can, and that's in the pockets, so he emphasised in his speech the Magnitsky clause – and he was saying to them, please stop opposing it when we put it to this legislation," he said.
Mr McDonnell said he believed Mrs May would respond to the Salisbury attack with "the traditional methods of expelling diplomats and Russia will retaliate – I think it's inevitable".
But on whether Kremlin-sponsored TV station Russia Today should lose its licence, Mr McDonnell said that was up to Ofcom, adding that he did not think politicians should get involved in any censorship.
source:-bbc