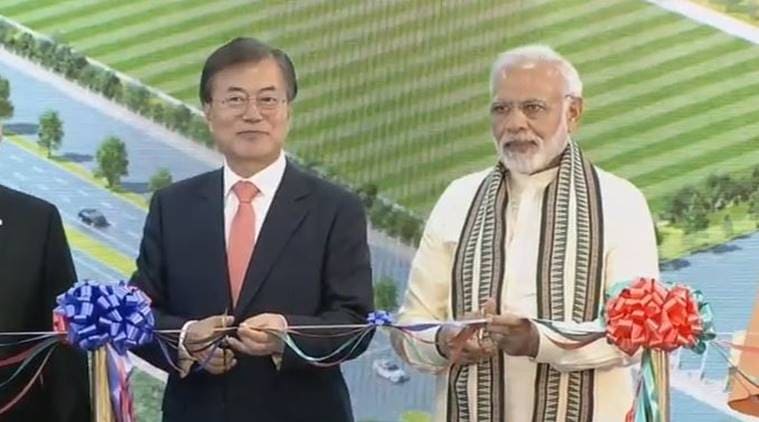 Samsung is gearing up to open what it calls the 'world's largest mobile factory' in Noida, Uttar Pradesh. The Noida factory of Samsung will be inaugurated by Prime Minister Narendra Modi and South Korean President Moon Jae-in at around 5.30 pm today. Samsung's 35-acre Noida factory will be world's largest with a claim of 120 million mobile phones per year.
According to reports, the current capacity of Samsung's mobile manufacturing plant in Noida, is around 67 million mobiles, which includes smartphones and feature phones. The new plant, which is being opened in Sector 81, Noida will basically double the capacity. Samsung also has a manufacturing unit in Sriperumbudur, Tamil Nadu as well.
Samsung to give strong competition to rival Xiomi
The factory will help Samsung to compete with rivals such as China's Xiaomi, which became India's biggest smartphone brand by shipments earlier this year. Samsung, which has been assembling phones in India since 2007, also plans to export India-made handsets, the company said in a statement. Prime Minister Narendra Modi's government has imposed taxes on imports of key smartphone components as part of a plan to encourage electronics manufacturing in India which would boost growth and create millions of new jobs.
World's largest mobile factory in Noida
Samsung announced that it will double the capacity of its mobile phone factory in Noida making it the largest phone factory in the world. President Moon Jae-in underlining the importance of the old link between the two countries said the plant will create a new IT civilisation forged in the sweat of Indian and Korean workers.
PM Modi inspects production line
PM Modi and Prez Moon Jae-In signed the Samsung Galaxy S9 handset while inspecting the production line.
Samsung Mobile phone factory: 120 million capacity by 2020
Samsung's Mobile phone factory in Noida will reach its capacity of 120 million by the year 2020. Samsung says it plans to manufacture 1 crore mobile phones per month, but that will be when the factory reaches peak capacity. They will be exporting phones from India to other markets.
Samsung Mobile Phone Factory: What time will it be inaugurated?
Samsung's mobile phone factory in Noida will be inaugurated around 5.30 pm by Prime Minister Narendra Modi and South Korea's President Moon Jae-in. The factory's announcement in India will be seen as a boost for the 'Make in India' programme of the NDA government.
Samsung's new Mobile factory in Noida: What do we know
Samsung is opening its factory in Sector 81 of Noida, where it has other plants as well. Samsung has been manufacturing in India since 1997 with television panels. Samsung's factories also manufacture fridges, television panels, washing machines, mobiles, smartphones in India. With the new investment, the mobile division's capacity will double to 120 million, claims the company.  The current capacity is around 67 million, which includes both feature and smartphones. In India, feature phones still dominate and Samsung leads in this segment.
Also read: Samsung to start World's Biggest Mobile Factory in India, inauguration today: Here's what we know
Samsung had announced an investment of Rs 4,915 crore for the Noida plant last year. This plant is where Samsung also manufactures other consumer products like refrigerators, television panels, smartphones.  Samsung's Noida plant also has a Research and Development Centre, as well as a design centre as well. In total over 70,000 people are employed in this Noida plant.
source:-indianexpress.