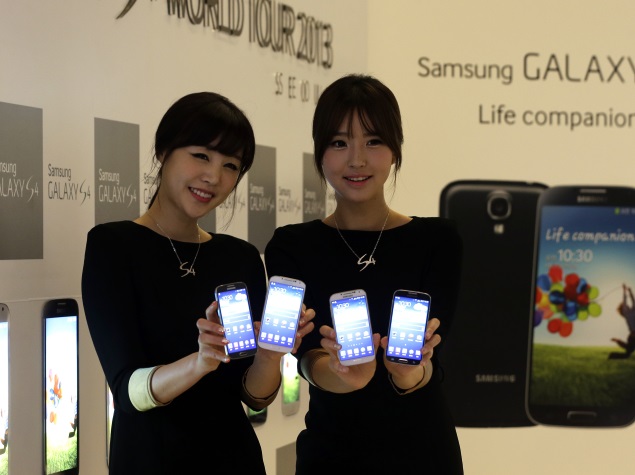 Samsung Electronics has announced plans to slash the number of smartphone models it issues next year by up to one-third as it tries to cut prices in the face of intense Chinese competition.
The strategy, confirmed by a company spokesman Tuesday, was unveiled during a presentation in New York at the Samsung Investor Forum 2014 by the South Korean conglomerate's head of investor relations, Robert Yi.
Yi said the company – which last Thursday reported a near 50-percent plunge in third-quarter net profit following a 20 percent drop in the previous quarter – would reduce the number of smartphone models in 2015 by between one-quarter and one-third.
The strategy is expected to be accompanied by a significant increase in the production of remaining models that can be sold more cheaply to compete with cut-price Chinese rivals.
The recent nosedive in Samsung's fortunes followed several years of stellar growth and a seemingly endless succession of record quarterly profits driven by its all-conquering mobile unit.
Its flagship Galaxy S smartphone has suffered in the high-end market from the popularity of arch-rivalApple's new iPhone 6 (Review | Pictures) while its dominance of the middle- and low-end handset segment has been challenged by Chinese handset makers such as Huawei, Xiaomi and Lenovo.
For the moment, Samsung is still the comfortable leader by sales volume, but its share of the global smartphone market has fallen from 35 percent a year ago to just under 25 percent, according to Strategy Analytics.
Also at the event Lee Chang-hoon, Vice President of Business Strategic team, Samsung Display, revealed that the company was planning to launch a flexible smartphone display that could be folded in half.
Quoted by ZDNet, Lee said, "We will secure production capacity of 30,000 to 40,000 [flexible displays each month] by the end of next year. There will be no company [except Samsung] that has this great production capacity by 2016. We plan to provide consumers with a product that has a flexible display by the end of the year. However, nothing has been decided on the finished product."
Lee added, "One of the superior things about AMOLED is that [because it has no backlight] it can become cheaper to produce compared to LCD. We are prepared to compete directly with LCD. AMOLED is similar in price to LCD, but better capability wise. We are confident that more people will buy AMOLED."
["source-gadgets"]