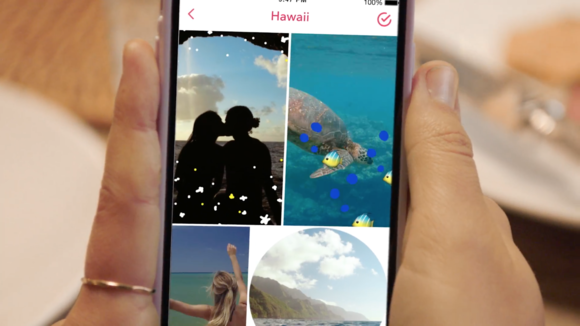 That embarrassing Snapchat video is coming back to haunt you.
On Wednesday, Snapchat started rolling out Memories, a new in-app camera roll for saving and searching your photos and videos. Integrating a permanent, searchable media archive is a big, bold step for Snapchat, which has over 100 million daily users sharing photos and videos (as Snaps and Stories) that vanish after 24 hours. Snapchat's "big change" will be rolling out slowly over the next few weeks on iOS and Android.
These Snapchat Memories will be searchable, too. The launch video shows a user searching for "Hawaii," which might be indicative of location tracking, and "dog," which means the company has dedicated some resources to object recognition. Snapchat users can also reshare these Memories or incorporate them in larger Stories, or montages. A reshared Snap will have a frame around it to indicate to viewers that it's from the past.
Additionally, Snapchat is not shying away from its reputation as a sexting app. Memories includes a "My Eyes Only" section for storing password-protected Snaps. That way you can avoid an awkward situation if you hand over your phone to family and friends to peruse through your Snapchat camera roll. According to Snapchat's updated privacy policy, the My Eyes Only section is encrypted.
"No one can view it without the passphrase," Snapchat says. "Not even Snapchat. But be careful, that goes for you too! If you forget your passphrase, there's no way to recover it."
Snaps and Stories saved in Memories are backed up by Snapchat. This is the first time the photo-sharing app has had to rely on cloud servers for backing up content longer than 24 hours.
Why this matters: It wasn't enough that you could save your Snaps to your camera roll, and Photos on iOS automatically created an album for them. Snapchat now wants you to never even have to interact with your phone's native camera and photo apps.
Unlike Facebook, Twitter, Instagram and practically every other major social media app, Snapchat launches with a camera. And because Snapchat requires you to use this in-app camera in order to share photos and videos, Snapchat users tend to use it as their default camera app. With the launch of searchable Memories, Snapchat is looking to now become the default camera roll for them as well.
["source -cncb"]