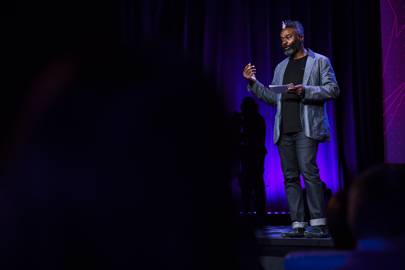 Emeka Okafor wants tough questions asked of Africa's education systems. "It's all well and good to talk about what might be working but if you don't address the problems that could upend everything then there isn't much left," he says.
Okafor is a co-curator of TEDGlobal being held in Arusha, Tanzania this week. It's the second time the ideas and technology conference has been held in Africa since 2007, an event which Okafor also helped to curate.
Back then he said it was about unveiling Africa to the world. That might sound like an odd sentiment, but Okafor explains it was about changing perceptions of the continent. "It was called Africa: The Next Chapter and it was about unveiling Africa for audiences outside of the continent. But it was also for people here and bringing to their attention the examples of individuals who are working across the board, from business to science, and really giving them a sense of who was out there."
On a continent that will drive the bulk of the world's population growth by 2050, a decade on from the first TED in Africa, Okafor wants to again work towards unearthing the insights and ideas spread across the continent and taking them further.
"A lot has to do with depth and scale and flourishing. There are so many more people now that are working in areas that are really at the core centres of innovation and ingenuity and we're trying to find a way to move that all together," he says.
One of those speakers at TEDGlobal this week looking to change this is Chika Ezeanya-Esiobu. The indigenous knowledge expert explores homegrown and grassroots approaches to the sustainable advancement of sub-Saharan Africa using Chikka for Africa as her platform.
As part of her talk, she addresses the problems with Africa's education systems, which she claims largely serves the interests of colonial masters and does not foster a sense of curiosity about the environment. As an example, Ezeanya-Esiobu cites an indigenous irrigation practice that's shown to be more effective than Western methods. She is now working towards exploring the knowledge systems within Africa and findings ways to incorporate it into the curriculum, research agenda and policy action across sectors.
Okafor hopes that conversations started by people such as Ezeanya-Esiobu will spark bigger ideas and collaborations that will have a lasting impact. "The speakers themselves will be touching upon solutions to this crisis, because it is a crisis."
But he says some of the most significant ideas will come together off-stage: "The conversations become much more than what people are listening to via the stage, they're conversations are had between the people themselves of those who are there – not just speakers but TED attendees."
Source:-Wired