Photo Credit:
Pinjra Tod/Facebook
On Wednesday night, a group of bright-eyed, loud and spirited young women sat in the middle of New Delhi's Connaught Place making posters, attending phone calls and practicing songs and slogans. Words like  "aurat " (woman), "freedom" and "aandolan" (agitation) were prominent on the placards. Curious passerby were given pamphlets with the words #PINJRATOD written on it.
The women were members of Pinjra Tod, which works to organise women "against gender-discrimination in education and other spheres of life". On the night of December 16, exactly three years after Jyoti Singh Pandey  was gang-raped on a bus and left with injuries that would kill her, these women in Delhi were preparing to march through the streets and ride its public transport networks to assert their rights to the city.
The "Bus Teri Meri, Chal Saheli: 16th Ki Raat" initiative also found participants in Kolkata, Bangalore, Darjeeling, Pune, Patiala, Chandigarh and Allahabad.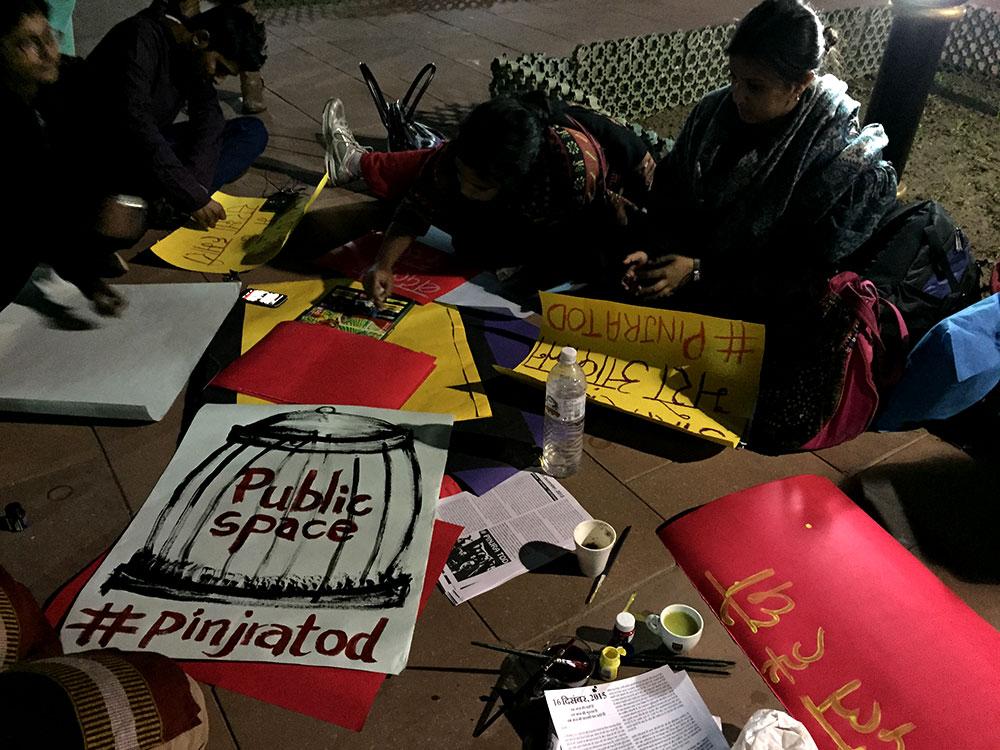 Pinjra Tod, which means "break the cage", was formed in September to protest against the unequal restrictions placed on women in college hostels, even as their male counterparts get by without curfews or deadlines. Wednesday's event  aimed to encourage women to step out of their houses after dark to reclaim public spaces otherwise dominated by men.
"We want to talk about a model of safety that doesn't compromise on women's autonomy," said Avipsha Das, member of Pinjra Tod and an MPhil student at Jawaharlal Nehru University. "When the [gang-rape] incident happened, there was a lot of noise around why the girl was outside at night. When a woman is travelling somewhere, she doesn't have the option to choose her mode of transport. The time bomb is constantly ticking in her head as to when and how she will reach her destination safely."


On Wednesday, women and their male supporters boarded buses in several cities with posters and pamphlets and began to talk to their fellow passengers about women's safety. In Delhi, many were bewildered to see a group of women on the vehicles shouting slogans and singing songs. Some sniggered at the women but others seemed genuinely interested in the message.
"We wanted to do something specifically on December 16 because, especially for Delhi, it does symbolise a memory in terms of women speaking up and making a statement against sexual violence," said Devangana Kalita, a Pinjra Tod member. "One of the things that we are fighting for through Pinjra Tod is opening up a dialogue on how one thinks about safety, about public space in ways which does not undermine women's autonomy. The violence that happened that night with Jyoti did not happen because she was out late at night but because there were no other women around her. Instead of relying on the safety of private cars and homes, there needs to be public transport that is safe and accessible to women because it is also what the larger section of the society uses."
The group believes that more CCTV cameras and more police personnel on the streets aren't the solution. "A PCR van cannot be present everywhere, so it will have to be more people, more women out and about," said Kalita. "It will have to be a collective struggle to achieve this."


The bus campaign was an extension of the drive Pinjra Tod organised at Delhi University in October where they asked women to take late-night and night-out permissions from their hostels to march through the campus. "The nature of the place really changed," said Kalita. "The chai addas [tea stalls], where you only see men, was suddenly occupied by 20-30 women. You did not feel threatened and men weren't staring or looking at you like they usually do if you're the only woman there."
Despite events like this, taking public transport home after dark still makes many women nervous.
"One has to take a late-night journey on public transport at a personal cost," said Shambhawi Vikram, a master's student at Delhi University. "This is what we are fighting against. I would like to be able to take this ride on my own. I should not have to think twice about getting on the bus. We're doing this today to create an environment where I can take a bus ride from CP [Connaught Place] to home without worrying about my safety. There are women who have to make these journeys alone at night and they need this kind of a structural support."
But on Wednesday night, there was no nervouness. With a rallying cry of "Tod do taale, zamana kya karega?" (break the barriers), members of the Delhi Pinjra Tod group marched on the roads and rode buses and metro trains, never losing their intensity or humour.
By midnight, their last ride done with, their voices were hoarse but their spirits were high.
["source-scroll"]