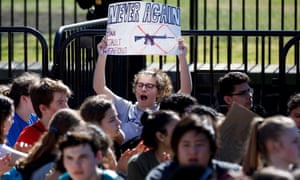 Top story: Survivors confront those who keep letting it happen
Donald Trump has suggested that teachers should be carrying guns during a White House session where he met with victims' families and friends from the Florida school shooting. "This would only obviously be for people who are very adept at handling a gun," said the president, arguing that the measure could deter or stop attackers. At the "listening session", Trump sat down with six survivors of the Parkland shooting as well as bereaved parents. Democratic senator Chris Murphy said after the televised meeting that the idea of arming teachers was a "recipe for disaster". "There's no evidence to suggest that this actually works, anecdotally or empirically. This is simply a talking point from the gun industry."
The real debate took place later at an emotion-charged town hall hosted by CNN in Sunrise, Florida where students who survived the Stoneman Douglas shooting confronted lawmakers and a representative of the National Rifle Association (NRA). Calls for gun control measures including outlawing assault weapons and criminal background checks on buyers received loud and lengthy applause. A parent received a standing ovation when he castigated Senator Marco Rubio, the only Republican speaker to show up, for his "pathetically weak" stance after the school shooting. Rubio was roundly booed as he tried to argue that banning assault weapons could not work – and, when challenged by a teenager, declined to reject any future political donations from the NRA.
Democratic lawmakers, by contrast, were cheered as they called for background checks, closing the "gun show" loophole, and bans on assault weapons. The NRA representative Dana Loesch argued that keeping guns away from people who are "crazy" and "nuts" was the answer. Leaving aside the insensitivity of her depiction of mental illness, many in the audience clearly felt there are simply too many guns around. "The second amendment was talking about muskets," Loesch was told by Linda Schulman, mother of a slain teacher – referring to the constitutional "right to bear arms" cited by gun control opponents. "We're not talking about muskets. We're talking about weapons of mass destruction."
---
'Not snake oil' – Antidepressants do work, a landmark study has shown. In a nutshell, they are better at treating depression than a placebo, though some are more effective than others. As Guardian colleague Mark Rice-Oxley puts it: "They are not a multibillion-dollar conspiracy dreamed up by Big Pharma Bond villains, snake oil distilled in secret laboratories or a futile cop-out from overextended family doctors." The six-year study was been carried out by a team of international experts and published in the Lancet. Doctors hope the findings will put to rest doubts about antidepressants' efficacy, and do away with stigma associated with taking them. "Untreated depression is a huge problem because of the burden to society," said the study's leader, Andrea Cipriani, of the NIHR Oxford Health Biomedical Research Centre.
---
'The poor fall further behind' – Britain is headed for the first sustained rise in income inequality since the 1980s, according to the Resolution Foundation. It says the decline of real earnings, interest rate rises and cuts to working-age benefits mean poorer families face three years of stagnating incomes. Median incomes are expected to start rising next year, but the likely weakness of the rally means low and middle-income households could miss out altogether, say forecasters. "The story this time around is less about the rich soaring further away, and more about poorer families falling further behind as they bear the brunt of £14bn of welfare cuts," said Torsten Bell, the thinktank's director.
---
Brit awards 2018 – It was mostly business as usual at the UK music industry's night of nights, writes Alexis Petridis, with few surprise winners. Stormzy, the 24-year-old south London grime rapper Michael Omari, won best British male artist, as well as best British album for his debut Gang Signs and Prayer. Dua Lipa, the Kosovar Albanian pop singer, picked up best British female and British breakthrough artist. Here is a wrap-up of the night plus a full list of the winners – and it's worth checking out how Stormzy ripped into Theresa May and the government's response to the Grenfell disaster. International winners included Lorde, Kendrick Lamar and the Foo Fighters.
'A very scary movie' – The abduction of Swedish citizen Gui Minhai from a train in China last month led to a diplomatic outcry. How this genial former bookseller came to be whisked away and held incommunicado is a chilling portrait of the lengths the Communist party will pursue in enforcing what can and can't be said about its leaders. Our Beijing correspondent, Tom Phillips, investigates the saga.
Winter Olympics
There was upset for Great Britain in the men's curling early on day 13 in Pyeongchang, where hopes of making the semi-finals evaporated after a walloping in the ninth end from Switzerland. In the men's ski halfpipe, not even faulty equipment could keep American David Wise from defending his Olympic title. New Zealand's Nico Porteous won bronze – becoming, at the age of 16, the third-youngest man to win a individual Winter Olympics medal.
Porteous was – remarkably, given his country had won only one medal before today, way back in 1992 – not the first New Zealander to reach the podium today. That honour went to Zoi Sadowski-Synnott, also 16 and now also a bronze winner, this time in the women's snowboard big air.
Sweden's Andre Myhrer won slalom gold as GB's Dave Ryding missed out on a fairytale end to his career but still came in a respectable ninth. There is plenty still to come at our live blog – and to make sure you don't miss a thing, subscribe to our special recap email delivered daily during the Games.
Lunchtime read: Table for none
Jamie's Italian and Barbecoa, Strada, Byron, Prezzo, Square Pie … the growing list of chain restaurants in strife must lead to the conclusion that Britain's love affair with casual dining is at an end. For a period between 2010 and 2016 the scene boomed – with operators willing to stake huge property and fit-out costs on success that they felt was assured.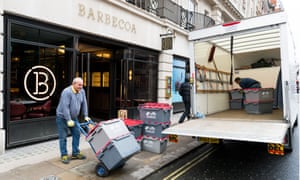 "What we didn't see coming was Brexit and its implications on exchange rates, recruitment and consumer confidence," says James Fox, a restaurateur who survived partly by moving out of costly sites before the downturn hit. Stefan Chomka, editor of Restaurant magazine, says frankly: "There are greater costs, more competition, fewer people and, consequently, the shit is hitting the fan."
José Mourinho refused to be drawn on the absence of Paul Pogba from his starting lineup – a bizarre and divisive power play – after Manchester United held on for a dogged scoreless draw in the Champions League last-16 encounter with Sevilla, largely thanks to a string of David de Gea saves. England's forwards head north today vowing to give Scotland's Finn Russell another torrid day at the office in the Calcutta Cup match at Murrayfield this weekend.
Dan Biggar has clambered out of an oxygen chamber to try to breathe life into Wales' Six Nations title challenge when they face Ireland in Dublin on Saturday. The former Leeds and England rugby league player Zak Hardaker has been dismissed by Castleford after last year's positive test for cocaine. And Tiger Woods says he is a work in progress and looking to learn from his latest outing since surgery to fuse his back – at the PGA National in Florida.
Business
Most Asian stock indexes have fallen, tracking Wall Street's decline after the latest Fed report rekindled fears about inflation and rising bond yields. Minutes from its most recent policy meeting indicated bullish sentiment among policymakers about the outlook for US and global economic growth, reinforcing expectations for further interest rate rises this year.
The pound was sitting on $1.390 and €1.132 a short time ago.
The papers
"More people should get pills to beat depression", says the Times, as it splashes with antidepressants being proven to work. "Pop more happy pills", says the Sun,emphasising that "1 million more need them".
The Guardian's main story is Theresa May's latest Brexit worry: a leaked document has gotten leavers fired up because it seems to suggest an open-ended transition deal with the EU. "Backlash at May's plan for Brexit transition" is how the Telegraph puts that one. The FT says Unilever is expected to pick the Netherlands rather than Britain for its new HQ, with Brexit a factor.
"Black cab rapist given £166k legal aid" says the Mirror as it channels outrage over John Worboys, his crimes and subsequent punishment. The i covers it from the angle of two women who have successfully sued the Met for its failings in investigating the serial sex attacker. The Mail shouts "Millions of women forced to work till they drop" – apparently, to "drop" is to be in your 50s or 60s and still have a job. The Express turns the looming cold snap into a health story, with experts warning that freezing temperatures are not good for the old, the very young or the sick.
For more news: www.theguardian.com
Sign up
The Guardian Morning Briefing is delivered to thousands of inboxes bright and early every weekday. If you are not already receiving it by email, make sure to sign up.
source:-theguardian