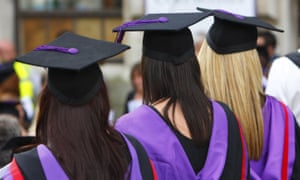 Why a higher education funding review now?
It has been on the cards since the Conservatives promised a major review of funding across tertiary education in their election manifesto last May. With graduate debt running at £50,000 upwards, there has been growing concern about the cost of going to university and whether it represents value for money. Fees in the UK are among the highest in the world, and some doubt there will be a return on such a huge investment in terms of graduate earnings.
What will the review look
The government is promising a wide-ranging review of the whole of post-18 education and funding, including the divide between vocational and academic qualifications and the decline in lifelong and part-time study. Most of the interest will be in undergraduate tuition fees, which stand at a hefty £9,250 a year at all but a handful of universities.
What are the options on tuition fees?
One thing we can be sure of, the government will not seek to match Labour's promise to axe tuition fees altogether, which the Conservatives regard as unaffordable and regressive. The review could recommend cutting or freezing fees. One of the most controversial options is the introduction of variable fees for different courses, depending on the cost of putting a course on, potential graduate earnings and the economic value to the country. So some universities might for example cut their fees for social science and humanities courses, which generally attract lower graduate earnings than engineering or maths.
Will that make the system fairer?
Many in the sector fear it will result in the most disadvantaged students applying for the cheaper courses with the poorest graduate outcomes, hindering rather than boosting social mobility. Senior Tories, including the former education secretary Justine Greening and the former universities minister David Willetts, prefer to see alternative measures including a cut in interest rates on student repayments, which currently stand at 6.1%, and increased financial support for disadvantaged students. There is widespread support for the return of maintenance grants for poorer students, which were scrapped in favour of loans by the Tories, making it even more expensive for those students to go to university.
How quickly are things likely to change?
In short, not very quickly. With the review set to run for a year, reporting in early 2019, the government has been accused of kicking the issue into the long grass. If you are applying to start university this September, nothing will have substantially changed.
source:-theguardian