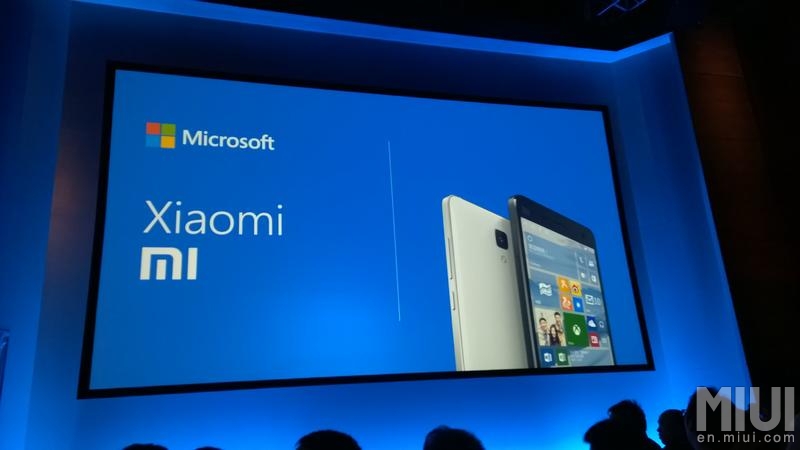 Xiaomi on Monday announced that it will release Windows 10 Mobile software for flagship Mi 4Android smartphone in China on December 3 . The announcement comes nine months after Microsoft partnered with the Chinese technology conglomerate to beta test Windows 10 for phones.
Lin Bin, Co-Founder and President of Xiaomi shared the news on Chinese social networking website Weibo. The image shared by Bin shows Windows 10 Mobile software running on an Mi 4. The announcement comes a week after a Microsoft Operating System Software Engineer who goes by the alias TheRenaissanceMan posted on Weibo that a public release of Windows 10 for Mi 4 is coming on Thanksgiving Day.
In March, on the sidelines of Windows 10's release date announcement, Microsoft also said that it had partnered with Xiaomi to test Windows 10 for phones. At the time, the company said that it would be testing Windows 10 with select Xiaomi Mi 4 power users in China.
"Through a new program with Xiaomi, one of the top smartphone distributors in the world, a select group of Xiaomi Mi 4 power users will be invited to help test Windows 10 and contribute to its future release later this year", the company had then noted in a blog post. "These power users will have the opportunity to download the Windows 10 Technical Preview – installing it and providing their feedback to Microsoft".
As Microsoft diminishes its mobile manufacturing efforts, the aforementioned partnership was speculated as a way for the company to get more people to try out its mobile operating system. Instead of releasing more Windows Phone (or Windows 10 Mobile) handsets, the company could release build (ROM) of its operating system that can be flashed onto an Android handset. At this point, we don't know how successful this program has been for the two companies. But a public release of Windows 10 Mobile for Mi 4 handsets does seem to paint a positive picture, and, may even indicate that more ROMs may be released to other Xiaomi phones.
Gadgets 360 reached out to Microsoft last week for comments on the program, and the company requested more time. We've reached out to Xiaomi for more information as well, and will update this article when we get a response.
Download the Gadgets 360 app for Android and iOS to stay up to date with the latest tech news, product reviews, and exclusive deals on the popular mobiles.
["source-gadgets"]