As of now, the only US carrier that sells the BlackBerry Priv is AT&T. This might change, however, next month when T-Mobile (reportedly) launches the BlackBerry "Venice".
One of Phone Arena's readers revealed T-Mobile's internal work calendar, with the launch of the BlackBerry Venice (The codename for the BlackBerry Priv) on January 26.
Right now, the only way to get a BlackBerry for T-Mobile is by purchasing it unlocked, directly from BlackBerry's US online store. Still steep, it starts at $699.99.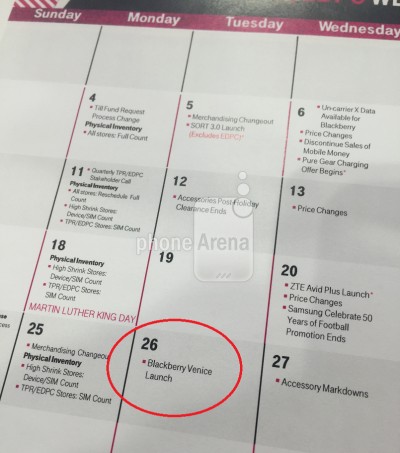 T-Mobile customers will now be able to acquire the new Android-powered BlackBerry withJump On Demand, letting customers switch out their phones up to three times a year.
The BlackBerry Priv is the first Android-powered BlackBerry device that put emphasis on security features for enterprise users. It features a 5.4 inch screen with an 18MP rear shooter powered by 3GB of RAM paired with a hexa-core Snapdragon 808 chipset. It also features a slide up screen that reveals BlackBerry's signature tactile QWERTY keyboard.
["source-blogherald"]