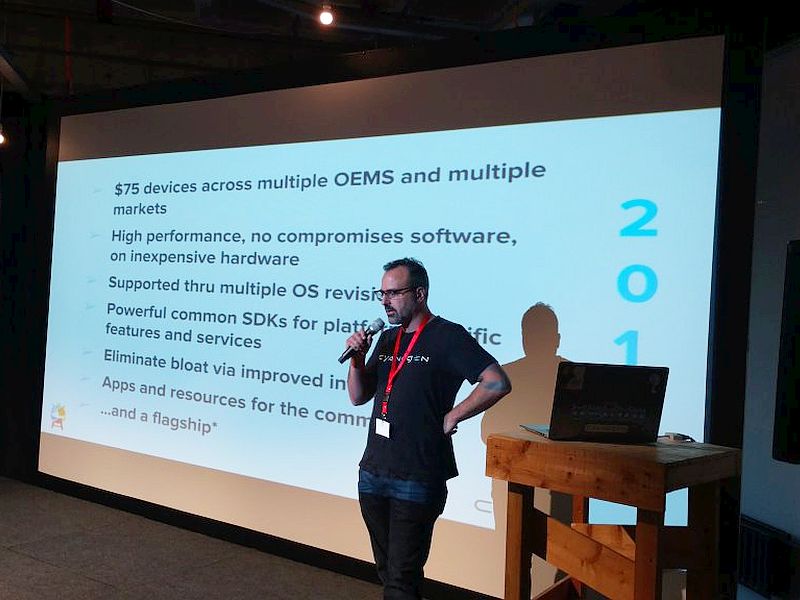 Cyanogen had an eventful 2015 as the company announced rebranding at the beginning of the year alongside raising $80 million (approximately Rs. 497 crores) in funding, which involved investors such as Twitter, Qualcomm, Telefonica, Rupert Murdoch and more. The company also managed to strike a deal to get Microsoft's apps preloaded on Cyanogen OS-based devices.
The company however has even bigger plans for 2016. Cyanogen Co-Founder and CTO Steve Kondik while speaking at Big Android BBQ Europe event detailed the company's plans for the next year. For devices, Cyanogen's focus centres around dirt-cheap phones priced at as low as $75 (approximately Rs. 5,000) and a flagship.
Some of the points Kondik discussed at the event include $75 devices across multiple OEMs and multiple markets; high performance, no compromise software on inexpensive hardware supported through multiple OS revisions; powerful common SDKs for platform with focus on apps; eliminating bloat via improved integrating apps and resources for the community, and a flagship.
During his keynote presentation, Kondik talked about the flagship with an asterisk marked on top of the word as the company didn't reveal any details about it.
Adding further, Kondik also hinted that CM13 based on Android 6.0 Marshmallow may be released in time for the holidays.
In other news, the company introduced Cyanogen Apps Package or C-Apps. The new apps package is targeted at CyanogenMod users who want to use features that are only available on devices running the commercial Cyanogen OS. Notably, C-Apps will require the latest version of CM 12.1 to run properly.
"Cyanogen OS includes a variety of apps and services that leverage CyanogenMod's open platform. As CM users, these apps were previously unavailable to you unless you bought a Cyanogen OS powered retail phone. Starting today, we're announcing the release of the Cyanogen Apps Package (C-Apps)," said the community in a blog post. C-Apps will be available offered as an optional download will not come preloaded on CyanogenMod releases, confirmed the company.
The company also listed the features that will come with the initial C-Apps Package. It includes Theme Chooser with per-app theming, Theme Store, AudioFX, Cyanogen Accounts, Gallery, Dialer with TrueCaller integration, and Email powered by Boxer.
["source-gadgets"]