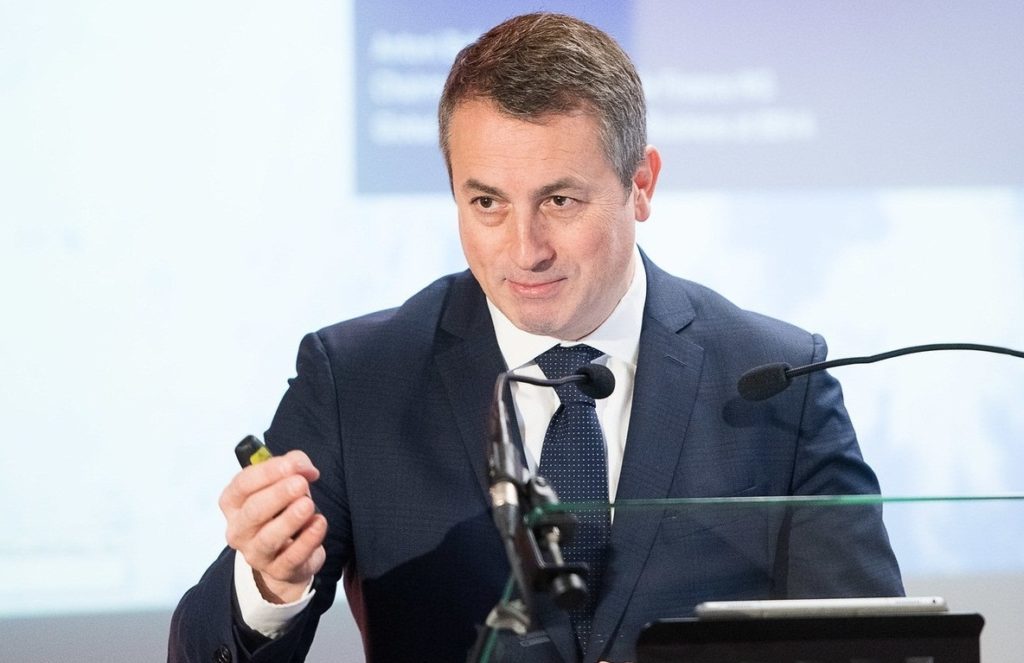 "We need a massive change and digitalization can not only radically accelerate the pace at which we mobilize funds for sustainable development, but also improve the use of these funds by enabling a better management of their social impact," explained BBVA Global Head of Responsible Business Antoni Ballabriga, during the European Banking Summit, held in Brussels on October 2 and 3.
Antoni Ballabriga, Chair of the Sustainable Finance Working Group of the European Banking Federation, also stressed the importance of "weaving digitalization and sustainability together to realize the full potential of the banking sector and the financial system in contributing to the SDGs and the Paris Agreement." In this regard, he noted a major step taken by the European Commission by merging both agendas under the same unit, DG FISMA (Directorate-General for Financial Stability, Financial Services and Capital Markets Union).
In addition, during his address, he listed the pivotal areas where digitalization is essential for banks to promote sustainable development. In first place, he referred to "financial inclusion through digital identification, the use of big data and artificial intelligence." He also referred to the integration of sustainability into decision-making processes, at both individual and business levels, through data-driven advisory services and the use of blockchain technologies, "not only to improve process efficiency, but also provide investors with access to social impact data, to increase transparency levels."
He also emphasized the importance of "using sustainability-related data to progressively integrate environmental and social risks into risk management policies at banks". To conclude, Ballabriga talked about the essential role of digitalization in building cross-sectorial ecosystems and partnerships, to connect new technologies and create new business models. "In addition, the use of big data is critical because, in aggregated form, it can be made available to social initiatives addressing the challenges our societies face," he concluded.
However, these opportunities, as Ballabriga has stated, also bring new challenges that need to be factored in, such as the possibility of causing the digital divide to broaden, thus further excluding underprivileged social groups, or the amplification of biases that give rise to unfair situations. "In this new scenario, we need to work on boosting financial and digital education levels, upgrading infrastructures and developing appropriate regulatory frameworks," he said.
BBVA's Global Head of Responsible Business took advantage of the opportunity afforded by this European banking forum to underscore the importance of the recent signing in New York of the Principles for Responsible Banking, promoted by the Financial Initiative of the United Nations Environment Program (UNEP FI ). "A set of principles that commit to align the banking business with goals that take into consideration the social and environmental challenges of our era, and that have been signed by 130 financial institutions, 67 of which are European," he explained.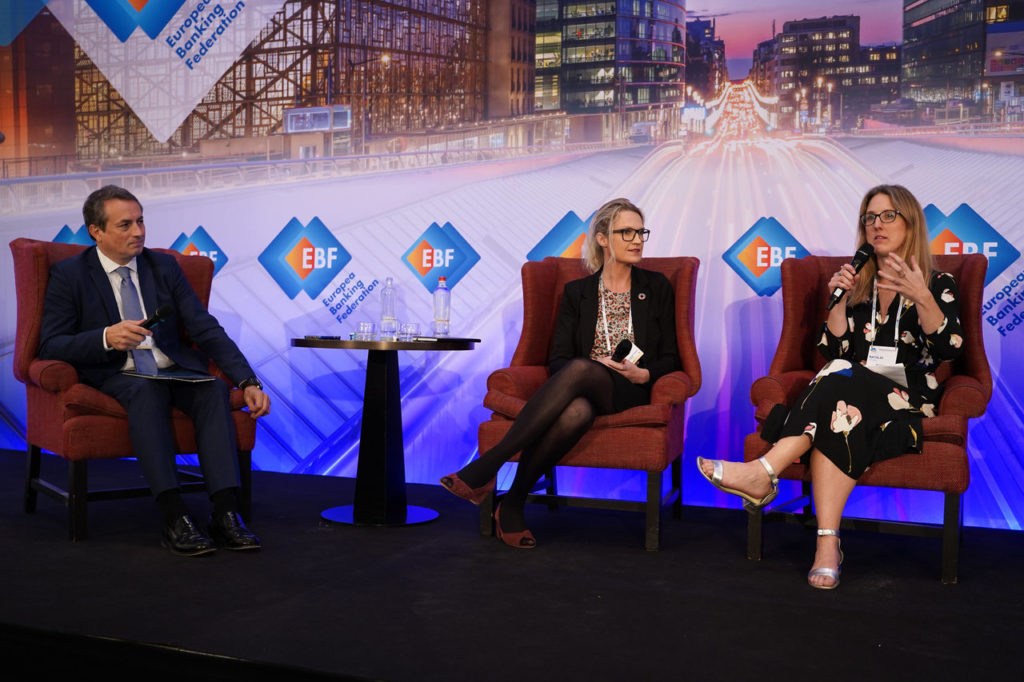 Antoni Ballabriga, BBVA's Global Head of Responsible Business participated in the panel along with Natalie Pullin, Head of Microsoft Transformation Technologies, and Marianne Haahr, Director of Sustainable Digital Finance Alliance.
The other members of the panel were Natalie Pullin, Head of Microsoft Transformation Technologies, and Marianne Haahr, Director of Sustainable Digital Finance Alliance, who shared some of the insights of a report on Blockchain and green bonds which recognizes BBVA's innovative drive in the bond market, making specific reference to the bank's role in a recent bond issue by Mapfre, a leading Spanish insurance company, as well as other groundbreaking market transactions.
Haahr also discussed some success stories to point out the importance of creating more policies that ensure the development of sustainable digital finance practices both at European and international level. "I think that the banking of the future will be the one that allows everyone to have access to green assets," said Haahr.
For her part, Microsoft's Natalie Pullin analyzed how banks can tackle innovation to ensure that their activity is both more secure, and more committed to society. According to Pullin "technologies such as blockchain or facial recognition are already being implemented to ensure a better use of data" in an ethical and transparent manner.
The European Banking Summit is the European Banking Federation's flagship event. Every year, over 300 experts, political leaders and key players in the sector come together in Brussels to discuss the industry's most pressing challenges and identify new trends.
In addition to sustainability and digitalization, other pivotal areas of focus during this year's edition included cybersecurity, harmonization of financial regulations or measures to combat money laundering.
["source=bbva"]