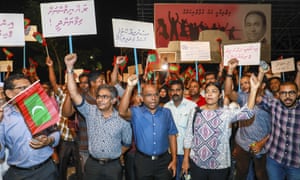 A state of emergency has been declared in Maldives amid a deepening political crisis sparked by a supreme court ruling that called for the release of imprisoned opposition politicians.
The government declared the 15-day state emergency after refusing on Monday to implement a ruling that has led to a wave of protests in the capital, Malé, with angry clashes between police and demonstrators.
The president, Abdulla Yameen, has responded by dispatching soldiers to surround the parliament building, preventing MPs from meeting. He also called a noisy rally of his supporters.
The supreme court ordered Yameen on Thursday to free nine dissidents, ruling that their trials were politically motivated and flawed. The court also called on the president to reinstate opposition MPs.
The island nation emerged a decade ago from a long spell of 30 years of authoritarian rule under President Maumoon Abdul Gayoom. His successor Mohamed Nasheed, elected in 2008, presided over a brief flourishing of multiparty democracy before being controversially ousted five years later.
Since then Yameen has stifled dissent and imprisoned members of the opposition. Rights groups have accused Yameen of using new laws and criminal cases to silence critics and to neutralise his opponents.
On Monday the government made clear it had no intention of respecting the supreme court's decision. The legal affairs minister, Azima Shakoor, said the ruling was not enforceable, adding that there were numerous challenges to freeing prisoners.
The supreme court, by contrast, said on Sunday there were no obstacles. The international community agreed. The UN and US said the Maldives should implement the order, amid calls from the opposition for human rights to be respected.
Yameen's main rival, Nasheed, described events taking place in the country as "tantamount to a coup". He tweeted that Yameen should resign and said the security services "must uphold the constitution and serve the Maldivian people".Nasheed is in Sri Lanka. He has been living in the UK since 2016 after being given asylum when he travelled there on medical leave from prison.
In addition to ordering the release of the political prisoners, the supreme court also reinstated 12 MPs who switched allegiance to the opposition. When they return, Yameen's Progressive Party of Maldives will lose its majority in the 85-member parliament, which could result in the legislative body functioning as a rival power to the president.
Known for its luxury tourist resorts, Maldives has suffered from weak government institutions and a divided political system dominated. Yameen is the half-brother of Gayoom.
The former president is now a vocal critic of Yameen. Over the weekend, Gayoom tweeted: "A band of thugs armed with knives drove by my residence several times after midnight last night shouting abuse at the top of their voice." He added: "I wonder who would have sent these unruly thugs?"
Police has started investigations into supreme court judges and officials since the ruling, and have said that they now plan to question Gayoom in a separate case. On Monday, the health minister, Hussain Rasheed Ahmed, quit in protest against the government's attitude towards its highest court.
Yameen has been in office since 2013. He had been set to run for re-election this year almost unopposed, with all of his opponents either jailed or exiled.
On Friday Nasheed said he would mount a fresh challenge for the presidency this year. Nasheed was sentenced to 13 years in prison after he was convicted under Maldives' anti-terror laws. The trial that was widely condemned by international rights groups.
source:-.theguardian.