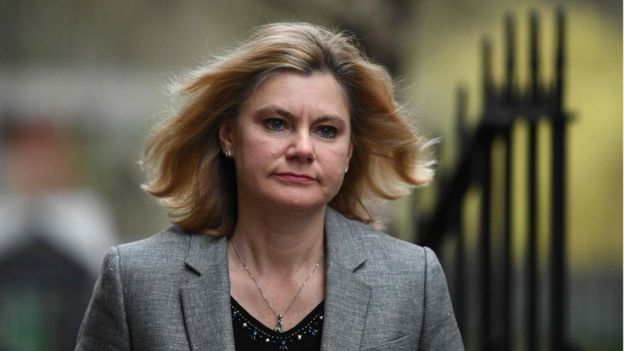 Reshuffle continues following Greening resignation
Theresa May is continuing her government reshuffle, moving around junior and middle-ranking ministers, following changes to the cabinet. More women and ethnic minority MPs are expected to be promoted.
The prime minister suffered a setback on Monday when Justine Greening resigned instead of being moved from the role of education secretary to that of work and pensions secretary. Mrs May was reportedly "disappointed" by the decision.
Ms Greening is replaced in the education role by Damian Hinds, while Esther McVey takes over work and pensions. The other major changes are that Brandon Lewis becomes Conservative Party chairman, Matt Hancock becomes culture secretary and Karen Bradley is made Northern Ireland secretary. Here's a summary of the reshuffle so far. And a list of cabinet ministers.
Meanwhile, what's BBC political editor Laura Kuenssberg's take on events?
Toby Young resigns from higher education watchdog
Journalist Toby Young has resigned as a member of the new universities regulator, saying his appointment has become a "distraction". He has faced criticism for making comments on Twitter in the past which have been described as offensive. A petition calling for his dismissal from the Office for Students gathered almost 220,000 signatures. Writing on his Spectator magazine blog, Mr Young said he had been portrayed as a "caricature", but apologised for posts that had been "ill-judged or just plain wrong".
North Korea to attend Winter Olympics
The Winter Olympic Games begin in South Korea next month and one of the big questions has been whether North Korea – which has caused alarm in the region with its missile testing – will take part. Well, following a meeting, it's decided to send a delegation, including athletes and supporters. The South has also called for competitors from both Koreas to march together at the opening ceremony of the Games in Pyeongchang – but it's not known whether the North supports the idea. Here's a timely history of North Korea at the Olympics.
Equality watchdog asks BBC for Carrie Gracie 'facts'
The Equality and Human Rights Commission is to write to the BBC for "information" on its pay policy, following claims by former China editor Carrie Gracie of "unlawful pay discrimination". Ms Gracie, who resigned from the post at the weekend, said she had discovered an "enormous gap" between her salary and that of her male counterparts. The BBC said "fairness in pay" was "vital". The EHRC said it would consider whether "further action" was needed once it had received the policy details and the "facts" on Ms Gracie's pay.
Is coconut oil a superfood?
Dr Michael Mosley, Presenter of BBC's Trust Me I'm a Doctor
Actress Angelina Jolie is said to have a tablespoon or so with her breakfast most mornings, while model Miranda Kerr says she not only adds it to salads and smoothies, but she cooks with it and splashes it on her skin as well. The health claims that swirl around coconut oil are treated with a great deal of scepticism by scientists. If anything coconut oil is seen, in the scientific community, as an unhealthy fat. But is this fair?
Read the full article
What the papers say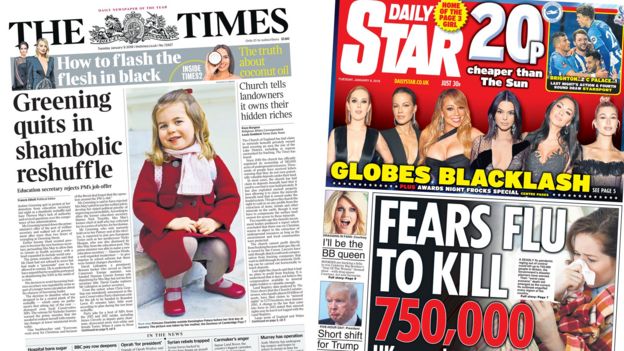 Theresa May's reshuffle receives some unfavourable coverage, the Times calling it "shambolic" and the Guardian saying the process is in disarray following the resignation of Justine Greening. The Financial Times reports that the prime minister's appointment of pro-European David Lidington as her "right-hand man" (Cabinet Office minister) reinforces the position of Conservatives who want to stay close to the EU's economic model after Brexit. And the Daily Mail says Monday's reshuffle began badly when it was incorrectly tweeted that Chris Grayling had been made Tory chairman. Away from politics, the Daily Star says a deadly flu pandemic is "raging out of control", and pictures of Princess Charlotte on her first day at nursery appear on some front pages.
source:-.bbc