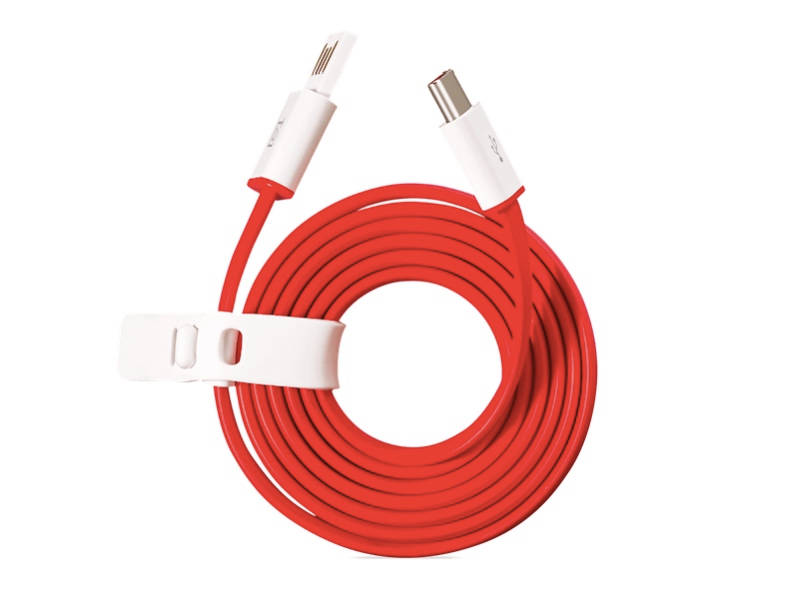 Chinese smartphone manufacturer OnePlus on Thursday addressed concerns that its USB-Type C adapter and cable may cause damage to power sources due to the use of a 10kΩ resistor instead of a 56kΩ used in v1.1 of the USB Type-C standard. The company said the OnePlus Type-C adapter is "partially" compatible with some third-party devices, and could damage power sources if the device and the power source don't have a self-regulation mechanism. The company also insisted that both accessories are compatible with OnePlus 2 smartphone.
Earlier this month, Benson Leung, a Google engineer evaluated OnePlus' USB cable and adapter and noted that while these peripherals could be safe to use with company's own smartphone, use with devices like the Google Chromebook Pixel, Nexus 6P, and Nexus 5X may damage the power source – charger, power bank, USB hub. As it turns out, he was right.
In a blog post, Carl Pei acknowledged that OnePlus' cable and adapter use a 10kΩ resistor instead of the 56kΩ required to meet version 1.1 of the Type-C port standard. This is fine for the 2A OnePlus 2 coupled with either a 2A or 3A power source, providing normal charging times and being safe to use. It will also provide normal charging times and be safe to use with 3A devices like the Nexus 5X and Nexus 6P, if coupled with a 2A self-regulated power source (those with CE, UL, or CCC logos).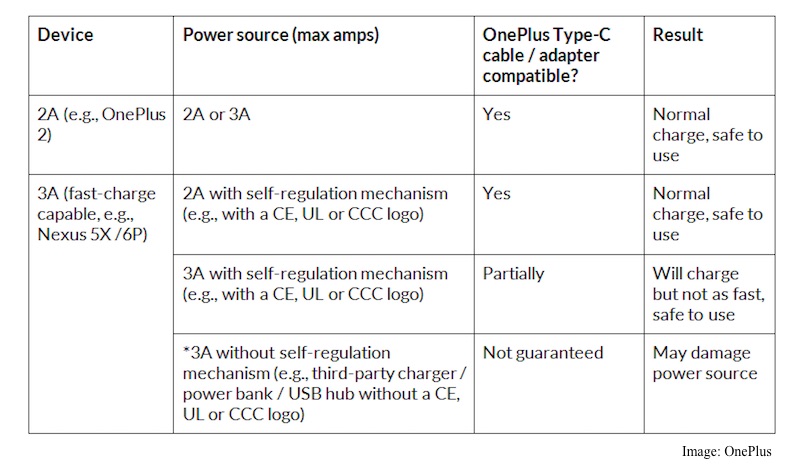 But, if the OnePlus USB Type-C adapter and cable is used on a 3A device with a 3A self-regulated source, charging will not be as fast, though it will remain safe to use. It is in the final case – charging a 3A device with an unregulated 3A power source – that the problem occurs, where the OnePlus USB Type-C adapter and cable are unsafe to use for fear of damaging the power source – which could be anything from a third party charger, to a power bank, computer, or USB hub.
"Our cable and adapter use a 10kΩ resistor, but according to version 1.1 of the USB Type-C port standard, these products should be using a 56kΩ resistor. The issue is that the cable and adapter are designed for a maximum of 2 amps of power, but the resistor will allow fast-charging devices to try to draw more power than a power source may allow," he said. "This could result in damage to the power source (third-party charger, USB port, etc.) if the device and power source do not have an internal mechanism to self-regulate the amount of power flowing to or from them."
The post adds that if users have purchased the OnePlus USB Type-C adapter or cable to use with devices other than the OnePlus 2, they can apply for a refund. In other words, the bundled cable and adapter provided with the OnePlus 2 cannot be exchanged, only the accessories bought separately. India and China users can visit their nearest OnePlus service centre to claim and accept the refund. North America and Europe users can visit a refund page to fill in details to process the refund viaPayPal. Note, the company will only provide refunds up until December 31.
OnePlus says that it will address the issue with future revisions of its adapter and cable, which will meet the v1.1 USB Type-C specification with a 56kΩ resistor.
To recall, when we had first raised Leung's report with OnePlus over the weekend, the company told Gadgets 360 its Type-C cable and adapter are compliant with USB 2.0 and Type-C 1.0 protocols.
["source-gadget"]