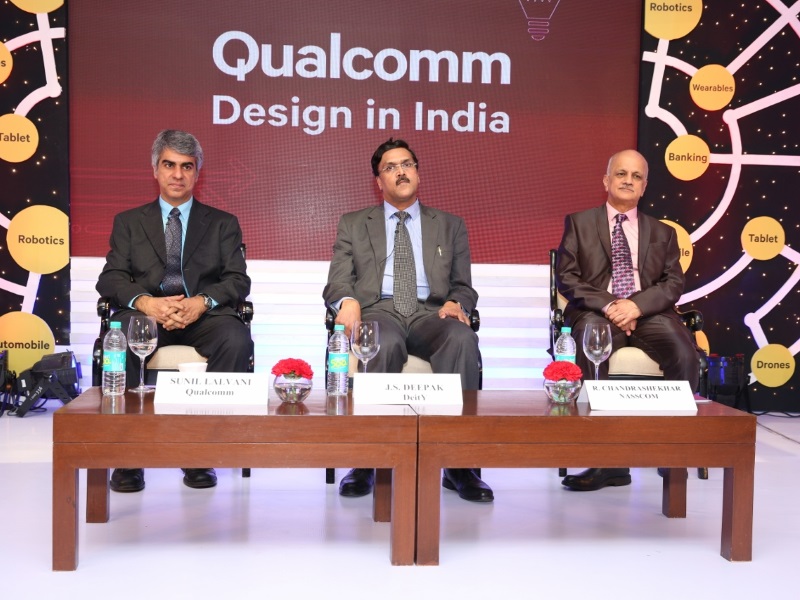 Qualcomm on Tuesday launched the Qualcomm Design in India Challenge, aimed at encouraging the creation of a local product design ecosystem, a company statement said.
The challenge, launched in association with the National Association of Software and Services Companies (Nasscom), aims to catalyse the creation of a product and hardware design ecosystem in India in the domains of smartphones, tablets and Internet of Thing (IoT) products for healthcare, education, banking, agriculture, automotive, wearables and smart cities.
"Energized by Prime Minister Narendra Modi's Make in India vision, Qualcomm is excited to support the possibility of making India a hub for product and hardware design in the areas of smartphones, tablets and IoT," said Qualcomm India president Sunil Lalvani.
Speaking on the occasion, Nasscom president R. Chandrashekhar said: "This initiative is closely aligned with Nasscom's own vision to 'Connect, Collaborate and Co-Create', which advocates the empowerment of the Indian economy through large scale technology adoption across horizontals such as healthcare, education, agriculture and others."
"Energized by Prime Minister Narendra Modi's Make in India vision, Qualcomm is excited to support the possibility of making India a hub for product and hardware design in the areas of smartphones, tablets and IoT," said Sunil Lalvani, vice president and President of Qualcomm India & South Asia. "The Qualcomm Design in India Challenge has been conceived to leverage India's vast pool of skilled engineering talent and to galvanize multitudes of indigenous hardware design companies to innovate technological breakthroughs that we hope will help bridge industrial, infrastructural and societal gaps in India."
["source-gadget"]