According to a patent published by the USPTO on November 26, Samsung seems to be working on creating scrollable, foldable smartphones and tablets. The patent gives details of the designs Samsung products might carry in future. Of course, foldable devices would require flexible displays, something Samsung has been working for nearly three years.
Looking at the technical details and several images of the foldable clearly suggest the inclusion of flexible displays, and more than one design has been outlined. While the first foldable device is seen carrying a textbook-like design with a display that is flexible from between, the second device appears like a cylinder featuring a scrollable display.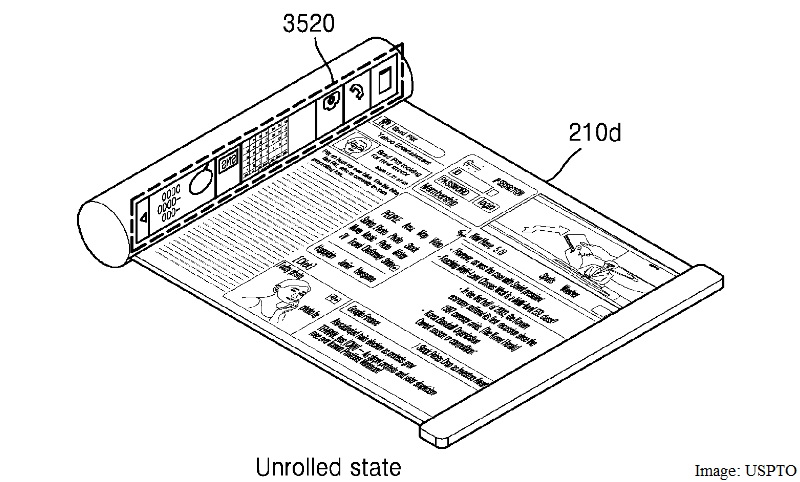 The patent also illustrates what the foldable device's screen might show when in closed and open state. When in closed state during a call, the Samsung device will show the face of the caller and the option to record calls, open keypad, end call, access speaker, mute call, or talk via headphones. In open state the device will additionally have the contact list opened in the other half of the display. Messages, images and other applications are also shown running on the display. Few images also suggest an existence of a flexible display that will show users notifications at the back of the screen when folded from any side or corner.
The patent notes that Samsung will use pliable plastic for flexible displays, especially for scrollable screens. The ideas shown in the patent are for now only concepts, and seem far from actually hitting shelves. For those unaware, Samsung brought the first curved screen smartphone named Galaxy Round in the market couple of year ago. Last year it launched the Galaxy Note Edge followed by Galaxy S6 Edge and Galaxy S6 Edge Plus earlier this year. LG too brought its G Flex and G Flex 2 smartphones with curved screen and flexible bodies
["source-gadget"]