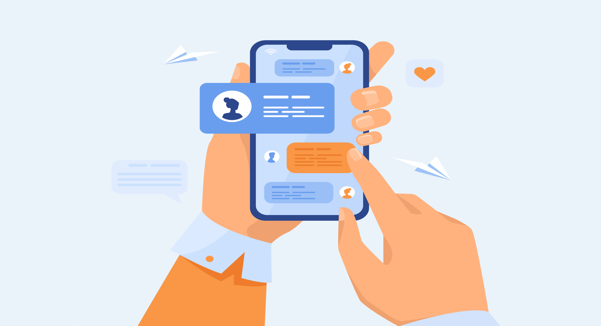 Today there's no shortage of new and engaging ways to connect with your guests.
From modern channels like Twitter and Facebook Messenger to more traditional channels like email or SMS, understanding what channels you should leverage is key to developing an exceptional experience.
In this blog, to help you select the right channels and uncover what's trending in hospitality, we're sharing the top channels hotels should be considering. Let's explore.
Considerations Before Adopting Channels
Before jumping into what channels are thriving in the hotel industry it's critical to understand what will work for you specifically. In order to uncover this, consider;
Channels your guests are already using

Channels that resonate with your overall objective

Channels that align with specific tasks or service opportunities
Having these points top of mind will help you select channels with a more strategic mindset. In turn, providing the tools to drive loyalty and maximize return.
4 Channels To Consider For Your Hotel
It goes without saying that over the years, guest preferences have changed greatly. As new channels emerge and capabilities expand, it's important to always be in the know. Below we highlight some of the top-performing channels to date with a promising future in hospitality.
Email
For decades email has been a top communication tool with guests. And while historically, email has been used to send booking confirmations and check-in/out details, today, email is used for much more.
With the "always-on" mindset, email is a great way to connect with guests during their stay. Inviting them to excursions, informing them of upcoming specials, and communicating with them about any requests. Further, email is a great way to collect feedback, encourage reviews and most importantly opt into your marketing flow. Once they're in, it's easy to upsell, cross-sell, and provide timely updates on hotel happenings.
WhatsApp
Over the years, WhatsApp has grown tremendously, offering unique features that cater directly to businesses. As a benchmark, today 2 billion minutes of WhatsApp calls are made every day, and the number of WhatsApp users in the United States alone is projected to reach 85.8 million in 2023.
For hotels, this growth is even more apparent, as it's grown in popularity due to its real-time capabilities. Connecting with reception is simplified and since most travellers use the app, it's a great way to encourage conversation.
Further, using WhatsApp and its business features, hotels can set up their own business  profile, templated messages and offer features like read receipts, video calling, group chats, status updates and more. It's a great way to engage guests from the moment they walk onto your property to well after they've left.
Phone
A traditional channel that's still used quite commonly, a phone call is an effective way to encourage direct communication. Connecting guests to different departments like reception or housekeeping, it allows guests to address their issues in real-time.
That said, with phone calls, there are a few downfalls including; reception being inundated with requests, no digital receipts and as more and more digital channels emerge, less appeal. In this instance, it's important to monitor your customer's preferences, along with industry trends.
Tablets In and Out of Room
Whether you have a tablet in-room or have a tablet beside reception, using a digital screen is a great way to offer room service options, communicate with various departments, promote any upcoming specials/events and ask for feedback.
The great thing about tablets is that they're intuitive, offer flexibility, and simplify the experience for those who don't want to download an app or are hesitant about calling in.
In addition, tablets can collect a range of information about your guest and their preferences. Over time this can be useful in understanding upcoming trends with future guests, or to personalize a stay.
Communicating on Multiple Channels
While offering one channel in line with customer preferences is a great place to start, the key to a thriving guest experience is offering multiple channels that work together for a cohesive experience.
This means adopting an omni-channel mindset. One that considers customer preferences and ensures that if a guest decides to hop from one channel to another, the brand experience doesn't change.
This is crucial as today, many businesses adopting multiple channels aren't keeping experience top of mind. In fact, 61% of surveyed customers claim they haven't been able to easily switch from one channel to another when interacting with a brand.
For hotels, streamlining the process could be as simple as dedicating specific employees to address conversations, allocating hours of the day to check the various channels you offer, or more efficiently, adopting a customer experience solution that consolidates all messages.
Considering a Solution To Streamline Communication
As mentioned above, the idea of adopting an omni-channel program can seem overwhelming, especially for a hotel. However, with the help of a sophisticated customer experience solution, managing communication between customers can be simplified through a consolidated inbox. Taking all the channels you offer a CX solution will bring them into one inbox and showcase sentiment in real-time. This deters employees from having multiple windows open and potentially missing an incoming message.
In that same breath, having a key CX solution can also help in terms of hotel request management. With the ability to tag and route messages to their appropriate department, the request is always seen by the right employee for a prompt and accurate response. In addition, employees can message each other internally for any out-of-scope questions and mark the inquiry as resolved to ensure there is no overlap.
Lastly, a customer experience solution can help you better understand your customers and their preferences. With analytics on channel type, location, time to respond, employee performance, trending topics, and more, you can offer channels that align with your objectives and correct service to ensure a seamless experience every time.
["source=hoteltechreport"]