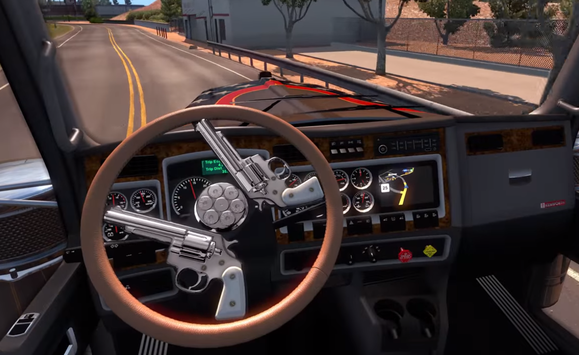 I was hoping for more news out of Tokyo Game Show this week but apparently it's not to be. Other than the last-minute delay of The Last Guardian (again) and a mediocre Watch Dogs 2 trailer (below), things have been quiet out of Japan.
But hey, Zachtronics is bringing out a spiritual successor to TIS-100, American Truck Simulator is selling custom steering wheels, Ken Levine gave a great interview onBioShock's nude dude, and Mafia III put out an amazing PC specification requirements poster. Seriously.
This is gaming news for September 12 through 16.
Freebies
In addition to all Battlefield 4's DLC being given away for free this weekend, it's also time for Ubisoft's next Anniversary game. This time out it's The Crew, Ubisoft's mediocre-ish open-world racer. Not quite the same caliber as last month's giveaway, Rayman Origins, but hey—still free. As always, you'll need Uplay to take advantage.
The betterment of the world
How do you know who the villain is in Watch Dogs 2? I guess it's because he wears a man-bun and talks about "the betterment of the world." Clearly a force for evil. Cue main character crashing a helicopter into downtown San Francisco.
Needs more fiber
Wrapping up this week's Ubisoft news, South Park: The Fractured But Whole is gettingpushed back from its planned December 6 release date straight into 2017. Ah well. Ubisoft claims it's because "The development team wants to make sure the game experience meets the high expectations of fans," though I'd also warrant The Last Guardian moving to a December 6 release didn't help matters.
Down the rabbit hole
I'm a huge fan of Zachtronics's more abstract games, SpaceChem and Infinifactory. But I'll admit: I was completely lost with last year's TIS-100, a game that entreated you to print out a manual for its in-game computer and learn how to program it.
And now Zachtronics is back with another. Shenzhen I/O launches into Early Access on October 6, features a thirty-page manual, and has you not just writing in assembly but also building circuits. Check out the trailer:
Outsiders
Bethesda's ramping up that Dishonored 2 hype machine so I guess it's a trailer every week or two from here on out. This one features Corvo, as well as some typically-mysterious musings from the lead singer of The Cure. Business as usual.
Would you kindly?
The PC versions of BioShock Remastered and its sequel are apparently not great, but the re-release did give rise to an excellent Glixel interview with Ken Levine this week, which contained the following humorous exchange:

I recommend reading the whole thing. It's got some pretty great insights into game development and BioShock in particular.
Well, can it?
System requirement announcements are typically the bottom-barrel of pre-release hype—more of a PSA than anything else. But maybe developers just aren't putting enough creativity into the craft, because this faux-retro Mafia III ad is incredible: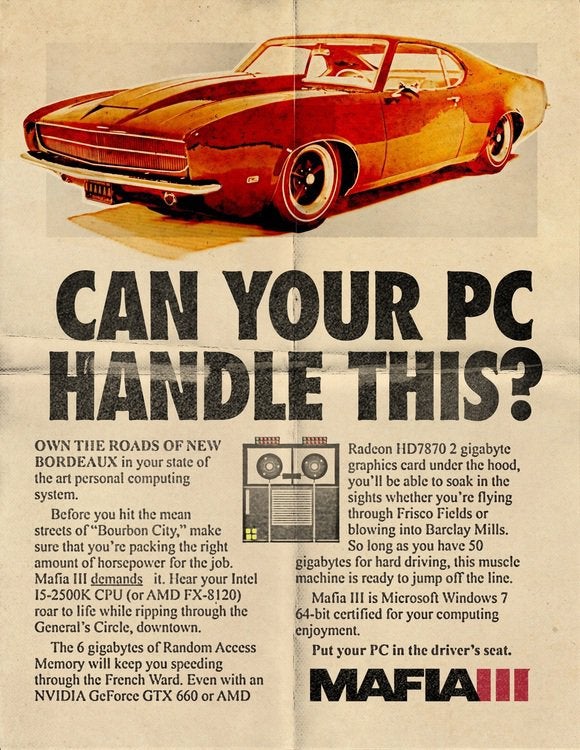 Steering wheel armor
To close out with this week's most ridiculous news: American Truck Simulator is getting some cosmetic DLC…for its steering wheels. And one of them, the steering wheel is made out of guns. Thanks, Rock Paper Shotgun for alerting me to this must-have package.
source"gsmarena"