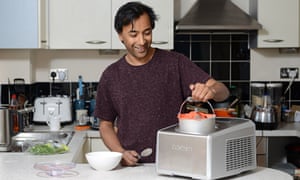 What?
Gelato & Ice-Cream Professional (£250, Cuisinart). Small freezer unit enveloping a removable bucket and motorised paddles. Chills and aerates ice-cream custards and sorbet syrups.
Why?
Because restoring the means of production to workers leads to a less-alienated dessert. Basically, making your own ice-cream is awesome.
Well?
I remember childhood attempts at homemade ice-cream, hand mixed every 30 minutes into a crystal suspension like broken glass and paint. I've encountered machines that require pre-freezing for seven aeons. This thing breezily assures you perfect ice-cream is possible with no prep in 40 minutes. Ignoring the no-doubt terrible magic under the hood that makes this possible, I challenge it to create sorbet from scratch in an hour.
Obviously, some of this is down to me. In a blender, I puree strawberries, caster sugar and lemon juice. OK, that's me done.
I sieve the mixture into the bucket, place it in the belly of the beast, and start the timer. From its name, size, and simplicity of design, this machine exudes confidence. It's like a restaurant with one thing on the menu, or a business card without a number on it. An attractive blue digital readout and three buttons are all you get.
There are no unnecessary settings, or ice-cream van jingles – the attention is in the engineering. Yet I spend half an hour staring into the crimson whirlpool, hypnotised: the best attributes a gadget can have are elegance of function, and fascination. It's quieter than I expected, venting cool air, then warm. It's so emotionally self-contained; I yearn to be it.
It gets on with it, and then it's done. I'm staggered by my own redundancy – washing the bucket takes seconds. I try some of the produce: it's faultless. Flavours fully retained, smoothly granular texture. It's a shade soft – I'd put it in the freezer over dinner for perfection.
This is a macho machine, vaguely smug: it feels less about childish treats on sunny days than whipping up peanut-butter ice-cream, rosewater gelato and basil sorbets to make your friends feel bad about their lives. There's nothing sweeter than that, of course. But I'm not sure you could take any of the credit.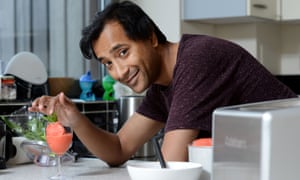 Any downsides?
It's very expensive, and very large, and very good. Which means you will get fat.
Counter, drawer, back of the cupboard?
On the kitchen worktop – or possibly even in the front room, replacing your telly.
["source-theguardian"]