What?
The Ozpig (rrp £300) is a bulbous, wood-burning stove, raised quadrupedally and lidded with a pivotal cooking surface.
Why?
Because it's a wood burner! The only thing liberal fashionistas love more than the environment is burning wood directly into it.
Well?
According to the booklet, this is a pot-bellied stove that doubles as a brazier, for simple camp-cooking and patio-warming. My first impression was that it looked like a disturbing mechanical cat as imagined by HR Giger, with no face and an 8ft tail, waiting to be fed. It's friendly, though. After all, it's from Australia, a country so laid back it's not so much a landmass as a gigantic lilo on the Pacific, and where the only thing taken seriously is outdoor cooking. From a design perspective, it's gorgeous: an orb of matte black steel with a vented door, a tall flue and cooking plates that swivel over the firebox or detach using a clever, multipurpose hooking poker.
Because it's raised, it's safe to use on decking and won't scorch grass. It's an effective heater; the only thing more warming is the palpable jealousy of guests. It's compact too, although there is a trade off: it's designed for smaller bits of firewood than I can buy online. Yes, yes, I know. Buying firewood on the internet is like asking a surrogate to grow you a moustache. Honestly, I would cut my own, except a) I'm not Abraham Lincoln, and b) I think the trees in my neighbourhood belong to the council.
So, how's the cooking? I have got a fire up, so let's sling some "snags" on the "barbie" and see how she goes. Cooking on the hot plate is fun, wokking directly over flames even more so. Best of all was sticking a chicken on the battery-powered rotisserie. This is sold separately. Still, what price becoming a bush legend? Around £45; the chargriller attachment is nearly twice that.
Strewth, mate. It's not perfect. But for its compactness, functionality, aesthetic charm and the fact it makes me feel like a metrosexual frontiersman, I have fallen in love with it. In fact, I have taken to calling it Babe (full name Babe 2: Ozpig in the City).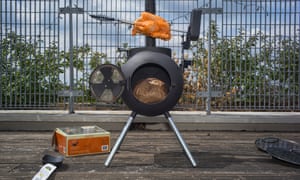 Any downside?
Heavy, expensive, not a huge cooking area. Has druidic overtones. Maybe you don't want to own a cauldron with a chimney on it. But Witch? magazine gave it four broomsticks, and I wouldn't argue with them.
Counter, drawer, back of the cupboard?
It's a radiating steel firepit, so keeping it on the counter will probably invalidate your contents insurance
["source-theguardian"]