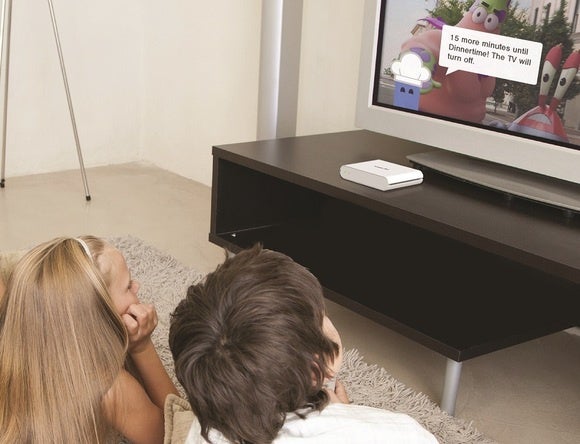 Anyone with kids can fall prey to this trap: You just need a few minutes alone, to do laundry, take a phone call, or just enjoy a little peace and quiet. So you park the kids in front of the TV for 20 minutes…. Or longer. A new startup, Screen, says it can enable you to manage your kids' screen time via your smartphone.
Screen's promise is that it can help you limit the time your kids spend on Android and iOS smartphones and tablets, computers, and even televisions, streaming devices and game consoles. Screen uses both a software agent and a set-top box as a literal home gateway to monitor and control what your kids are watching—and for how long. It even works remotely.
Screen will be sold as both a device and a service, although founder Tali Orad said the company isn't charging for the service component right now. The Screen set-top box will normally cost $139, but will be available for $99 for those who wish to preorder before the launch.
Why this matters: Turning a television on might not have a detrimental impact on childhood development, but as screen time increases, researchers have begun to worryabout effects that include diminished attention spans, violence, and obesity. Orad said she sees Screen as a policing tool that enforces rules that parents and children have already been agreed on.
Setting ground rules
Screen begins with a contract—a literal one. Parents and their kids can write an agreement restricting the amount of time kids spend on their devices and digitally sign it with their parents. The app then allows the parents to define rules for each device, such as powering off a Windows PC unless it's being used for homework from 3 PM to 5 PM.
According to Orad, those rules are enforced by a software agent that lives on devices powered by iOS, Android, and PCs running Windows 7 and above—but not Macs, at the moment. (The agent can also be installed on third-party Android devices, such as a Fuhu tablet.) Each agent operates over both Wi-Fi and cellular connections and sends the parent a notification if the client device is placed offline into airplane mode to evade control.
Likewise, parents can use the app to monitor where and how the children are using the devices, even virtually peeking over their shoulder to view what the child is watching. Screen also logs the applications used.
Kids using Screen will receive a warning when their time is nearly up. Orad said that's generally a few minutes to allow kids to save their game, before the screen powers off. If the child then powers the device back on again, he or she will be allowed a minute or two—and then the device will power off again. At that point, the parent will need to step in.
"If Screen sends me a notification, it's my job as their mom to have that conversation," Orad said. "I want to help you, I want to spend time with you, I don't want to fight with you."
The Screen set-top box provides the same sort of monitoring and control to devices plugged into the television, such as a Roku, PlayStation, or some other device. Essentially, it works like your cable box—a device is plugged into the Stream via an HDMI connection, and from there to the television.
Orad said she uses Screen to limit her own work time, too. "If I want to teach something, I have to set an example," she said. "It's like when the teacher tells you that you have to eat healthily, organic. And then you eat McDonalds every night."
["source -cncb"]